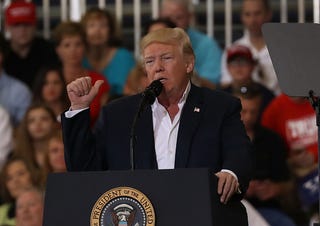 Some in the news media didn't need President Donald Trump's amazing news conference on Thursday to ask health professionals whether they thought Trump was mentally sound.

News Conference Only Heightened Questions
The news conference simply reinforced what many were already thinking. David Brooks wrote Friday in the New York Times, "President Trump's mental state is like a train that long ago left freewheeling and iconoclastic, has raced through indulgent, chaotic and unnerving, and is now careening past unhinged, unmoored and unglued. . . ."

Scott Pelley said on Thursday's "CBS Evening News," "Today, we learned the length of the president's fuse: 28 days." Trump "went on offense with the familiar tools that built his career: Bluster, bravado, exaggeration and a few loose facts."
Gabriel Schoenfeld, a senior adviser to the 2012 Romney for President campaign, wrote Thursday in the Daily News in New York, "Something is deeply wrong with our president and the country is in danger. The danger will only be averted when the Republican leadership in Congress publicly acknowledges what they and the rest of the entire world already know: America's president is not wearing any clothes."
The Daily News also published a news story Thursday headlined, "President Trump blasted over social media for 'sociopathic' White House press conference."
Two weeks earlier, News columnist Gersh Kuntzman challenged readers, writing, "The American Psychiatric Association says that anyone exhibiting five of the following nine egotistical traits has Narcissistic Personality Disorder. Count up how many Trump exhibits. . . ."
The discussion has been taking place for months in the mental health community. Psychology Today wrote on Jan. 31, "In the several days since psychologist John Gartner posted a petition on Facebook declaring that Donald Trump must be removed from office because he has 'a serious mental illness that renders him psychologically incapable of competently discharging the duties of President of the United States,' more than 18,000 psychologists, psychiatrists, and other mental health professionals have signed their agreement.