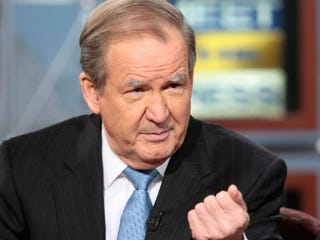 MSNBC to Decide Whether to Return Commentator to Air
After years of complaints that commentator Pat Buchanan's diatribes were racist and anti-Semitic, MSNBC is ready to make a decision about whether to return Buchanan to the air.
"Pat and I are going to meet soon and a decision will be made," MSNBC President Phil Griffin said, according to Bill Carter, writing over the weekend in the New York Times. "Pat is a good guy. Some of his ideas are alarming."
MSNBC has kept Buchanan off the air since the fall release of his latest book, "Suicide of a Superpower: Will America Survive to 2025?"
"Buchanan, a former Republican presidential speechwriter who later ran for the White House as a fiery populist candidate, hasn't appeared on MSNBC since Oct. 22, a few days after his book hit the shelves. The book, however, wasn't discussed," the Huffington Post reported in November.
"Yet Buchanan has still managed to spark another race-based controversy that's embroiling the network.
"Buchanan argues in 'Suicide of a Superpower' that 'ethnonationalism' is tearing the United States apart and that the 'European and Christian core of our country is shrinking.' In his dire introduction, he warns that the 'nation is disintegrating, ethnically, culturally, morally, politically.' And he strikes the same themes during his TV and radio appearances promoting the book."
ColorOfChange.org, the Internet-based activist group, praised Griffin's decision to suspend Buchanan.
"Over 86,000 ColorOfChange members called on MSNBC to end their ties with Buchanan," the group said in a weekend statement.
" 'ColorOfChange.org welcomes MSNBC's decision to indefinitely suspend Pat Buchanan,' said [its] Executive Director Rashad Robinson. 'However, it's time for MSNBC to permanently end their relationship with Pat Buchanan and the hateful, outdated ideas he represents. We appreciate this first step and urge MSNBC to take the important final step to ensure that their brand is no longer associated with Buchanan's history of passing off white supremacy ideology as mainstream political commentary.' "
Others that have called for sanctions on Buchanan are the Human Rights Campaign, which objected to Buchanan's labeling homosexuality "unnatural activity," and the National Jewish Democratic Council. During Elena Kagan's confirmation proceedings for the U.S. Supreme Court in 2010, Ira Forman, this group's executive director, said, "Only Buchanan could channel Father Coughlin to warn the American public that five of the last seven Democratic nominees (going back to the 1960s) have been Jewish."
Charles E. Coughlin (1891-1979) was a controversial Roman Catholic priest who first broadcast weekly radio sermons in 1926 and had great influence on Americans during the Depression. His sermons included attacks on prominent Jews, and church superiors ordered him to return to parish work in 1940.
The Times' Carter reported, "Mr. Buchanan's comments have led to protests from civil rights groups and the Anti-Defamation League. The A.D.L. sent Mr. Griffin a letter urging that MSNBC drop Mr. Buchanan." Buchanan has twice earned the "Thumbs Down" award from the National Association of Black Journalists.
" 'During the period of the book tour I asked him not to be on,' Mr. Griffin said," Carter continued. " 'Since then the issue has become the nature of some of the statements in the book.'
". . . Mr. Griffin said, 'The ideas he put forth aren't really appropriate for national dialogue, much less the dialogue on MSNBC.' The network has set out to brand itself as a network designed to appeal to progressive and liberal viewers."
Buchanan did not respond to a message left through his column's distributor, Creators Syndicate. However, he defended his position in an appearance on "The Diane Rehm Show," which was transmitted to NPR by WAMU in Washington. "Diversity means differences and diversity brings about conflict," he said. "Let me read you just a couple of quotes here, one of them, 'Wars between nations have given way to wars within nations.' "
* George E. Curry, National Newspaper Publishers Association: Pat Buchanan: An Unrepentant Racist [Oct. 31]
* Sam Fulwood III, Center for American Progress: Race and Beyond: Pat Buchanan: America Is Doomed [Nov. 8]
* Colbert I. King, Washington Post: The post-racial America of Ann Coulter and Pat Buchanan [Nov. 4]
* Jillian Rayfield, Talking Points Memo: Tea Party Nation Head Defends Pat Buchanan: The Real 'Racist Nuts' Are In Color Of Change [Oct. 26]
Mizell Stewart Named to Corporate Post at Scripps
Mizell Stewart III, editor of the E.W. Scripps Co.'s Evansville (Ind.) Courier & Press since 2007, has been named vice president of content for the Scripps newspaper group, the company announced on Monday.
"As chief content officer, Stewart will be responsible for developing content strategy and directly overseeing the creation, curation and production of news, information and entertainment for print and digital platforms in the 13 Scripps newspaper markets," a Scripps announcement said. "All Scripps editors will report directly to him."
Stewart joined the Evansville paper in 2007 after leading the Akron (Ohio) Beacon Journal newsroom as managing editor.
The Knight Ridder veteran took over as newsroom leader after the paper's editor, Debra Adams Simmons, was laid off in the wake of the sale of the former Knight Ridder paper to David Black, a Canadian newspaper company owner. Simmons is now editor of the Plain Dealer in Cleveland.
"I want to be a publisher some day," Stewart told Journal-isms then. "I had hoped that would be a possibility with Knight Ridder. I wanted to be part of a newspaper company where that opportunity might be available to me."
He also said he loved working at midsize newspapers because they allowed him to be closer to their communities.
Scripps noted that Stewart is vice president of the Indiana Debate Commission, the nation's first independent statewide commission responsible for organizing and staging political debates. He is also an advisory board member in support of programs at the University of Evansville and Bowling Green State University.
Stewart also is a board member of the American Society of News Editors and vice president of the Evansville African American Museum.
"Mizell is passionate about local news and community service," Tim Stautberg, senior vice president of newspapers for Scripps, said in the announcement. "He is well-respected within our newspapers and will utilize his broad experience to encourage the creation of indispensable content at a time when customers have more options than ever before to find the information and entertainment they crave. We are confident that through his leadership our newsrooms will continue to pursue the mission of informing, engaging and empowering the communities we serve."
The announcement continued, "Last month the Courier & Press was named Indiana's best daily newspaper for 2011 by the Hoosier State Press Association, earning the Blue Ribbon Award. The Courier & Press was a finalist for the same award in 2009 and 2010.
". . . In 2005, while serving in a corporate role with Knight Ridder, Stewart served as acting managing editor of The (Biloxi) Sun-Herald, supervising day-to-day coverage of the aftermath of Hurricane Katrina. The Sun Herald's effort was recognized in 2006 with the Pulitzer Gold Medal for Public Service.
"He also was on the front lines for another memorable event in U.S. history. He was managing editor of the Tallahassee Democrat during the 2000 presidential recount in Florida. He coordinated coverage that captured national and worldwide attention and was named editor of the paper in 2003."
FAMU Parents Say Dead Son, Allegedly Hazed, Was Gay
In its second day on the air, "CBS This Morning," which promises a hard-news focus, broke news Tuesday in the death of Robert Champion, the Florida A&M drum major who was allegedly hazed. The parents "tell correspondent Mark Strassmann that their son may have been targeted because he was gay and a vocal opponent of hazing. [Video] 'There's no way around it. It was wrong,' Pam Champion tells CBS News," the network said.
"According to the family's lawyer Chris Chestnut, the family has spoken to over 10 potential witnesses. Some of them say Champion was singled out because of his sexual orientation and opposition to hazing.
"Pam Champion also revealed that the victim's family is suing Florida A&M, as well as the bus company, Fabulous Coach Lines, which provided the charter bus where the hazing took place. 'I'm waiting on a solution,' says Pam Champion. 'Our goal is not to shut down any school. Our goal is not to stop the music. Our goal is to stop the hazing.' " [Added Jan. 10]
* Erica Butler, Loop21.com: The Black Wall of Silence [Dec. 14]
* Maurice Garland, Loop21.com: FAMU Hazing Scandal By The Numbers [Dec. 16]
* Dr. Julianne Malveaux, syndicated: Robert Champion is a Drum Major for Change [Dec. 19]
* David Squires, Daily Press, Newport News, Va.: Hazing should not be condoned [Dec. 15]
Gossip Aside, "The Obamas" Might Shed Light on Race
The New York Times ran a front-page story Saturday based on Times reporter Jodi Kantor's new book, "The Obamas," that instantly had people talking.
Headlines told the story: "First Lady Faulted Aides For Fixating on Politics, Not Promised New Policies." "Valerie Jarrett 'Dedicated Her Life' to the Obamas." "The Surprisingly Sharp Elbows of Michelle Obama." "Michelle Obama had tense relationship with president's top advisers, book asserts."
In the social media, some African Americans suspected an effort to besmirch the first lady and senior adviser Valerie Jarrett, who is also black. Some journalists questioned the writing style, light on attribution, though Kantor said "the work is a product of hundreds of hours of interviews with more than 200 people, including 33 current and former White House officials and cabinet members," according to the Washington Post.
Others said the unflattering portrayal of White House aides rang true.
The White House instantly pushed back, calling the book "an overdramatization of old news."
Kantor replied Monday on the "Today" show, saying, according to Politico, that "the real point of the book, which she said was largely ignored over the weekend, is about Michelle Obama's transformation as first lady. 'Because she, at this point in the narrative, is moving away from an emphasis on fashion and style and toward much more substantive work,' said Kantor."
Evaluating the entire book was difficult, because, Carol Felsenthal wrote for Chicago Magazine, "No advance copies were sent out - the pub date is January 10 - and Kantor was on orders from her publisher not to reveal too much."
Black journalists were noticeably missing among those who did manage to get access to the book. But David Remnick, reviewing Kantor's work in the New Yorker, indicated that the author managed to shed light on one overarching question of the Obama presidency: What it's like to be the first black president?
"For the Obamas, being the first African-Americans to reside in the White House has surely involved singular pressures," Remick wrote. "The greatest is security - we already know that there has been a larger number of death threats against the President than against his predecessors. But racial politics also play out in small, less ominous ways. When Vogue asked Michelle Obama to sit for a cover story, there was, Kantor reports, division in the ranks of the staff. Two white aides objected, saying that having the First Lady appear in Vogue, inevitably dressed in expensive designer clothing, would look unfeeling when so many people were living in misery. Two black advisers, Valerie Jarrett and Desiree Rogers, argued that, on the contrary, having an educated, attractive African-American First Lady on the cover of Vogue could be a source of inspiration, and counteract a plenitude of negative images. In the end, Obama posed for the magazine wearing clothes from both a young American designer she helped discover, Jason Wu, and J. Crew.
"The cultural politics of race in America are always refracted through class. Kantor points out that when Michelle was an undergraduate at Princeton one of her aunts worked in town as a cleaning woman - a circumstance that she did not widely share with her classmates from Andover, Exeter, and Harvard-Westlake. Marian Robinson, Michelle's mother, is the most endearing figure in the book; her lack of pretension has survived her relocation from a bungalow on the South Side to a third-floor bedroom in the White House residence. At the White House, the First Mother-in-Law insists on doing her own laundry, and, when she slips into D.C. on her own and someone stops her on the street to say she looks like the First Lady's mother, she just smiles and says, 'I get that a lot.' "
* Mary C. Curtis, theRoot.com: Mrs. YoMama Controversy: Not Again
* Carol Felsenthal, Chicago magazine: Valerie Jarrett 'Dedicated Her Life' to the Obamas; Plus, More Details from Jodi Kantor's New Book
* Katti Gray, ABCNews.com: First Lady Faulted Aides For Fixating on Politics, Not Promised New Policies
* John Hudson, the Atlantic: The Surprisingly Sharp Elbows of Michelle Obama
* Jodi Kantor, New York Times: Michelle Obama and the Evolution of a First Lady
* David Nakamura and Anne E. Kornblut, Washington Post: Michelle Obama had tense relationship with president's top advisers, book asserts
* Connie Schultz, New York Times: Partners in Love and the Presidency
Smiley's Criticism of Obama Doesn't Play in Peoria
"Tavis Smiley is out as speaker for the annual Martin Luther King luncheon Jan. 16 at Peoria Civic Center. Michael Eric Dyson is in, tentatively," Pam Adams reported last week for the Peoria (Ill.) Journal Star.
"Public Employees for Community Concerns, the city of Peoria employee group that sponsors the luncheon, canceled the contract with Smiley on Wednesday amid growing concerns about a backlash to his appearance.
"Following a local book club's public pronouncement of its decision to boycott Smiley because of his criticisms of President Barack Obama, the local NAACP and a private family group also asked for refunds on tickets purchased for tables of 10.
"While that totals only 30 people who requested refunds, Alma Brown, a city employee and key organizer of the luncheon, said she has received so many complaints about Smiley she is worried about ticket sales.
". . . The group still is negotiating Smiley's cancellation fee, according to Brown. He was supposed to have been paid $37,500 to speak."
* Editorial, Peoria Journal Star: No smiles over Smiley, just some principles to ponder
* Ruby Nell Sales, voxunion.com: Can Blacks Criticize Barack Obama?
* Upcoming Tavis Smiley panel and C-SPAN broadcast: Remaking America: From Poverty to Prosperity
Veteran Journalist Tony Marcano Leaving NPR
Tony Marcano, senior editor of NPR's "Weekend Edition," is leaving the network on Friday, he confirmed for Journal-isms.
"My last official day as an NPR employee will be this coming Friday (the 13th, coincidentally). But that's really all I can say about it," Marcano said.
A 30-year journalism veteran, Marcano has been a Sunday editor at the South Florida SunSentinel; ombudsman at the Sacramento Bee, an assistant metro editor at the New York Times, a reporter and editor at the Los Angeles Times and a reporter at the Daily News in New York.
When Sonia Sotomayor was nominated as a Supreme Court justice in 2009, Marcano wrote a piece for the NPR website noting that "I grew up down the block from Sonia Sotomayor — she was in the Bronxdale Houses, which abut the north side of the Bruckner Expressway; I was in the James Monroe housing project, a few hundred yards to the south . . .we're both of Puerto Rican descent - Nuyoricans, as we're known."
From Convent to Newspapers to the Bench
Karen Howze, who has worked at the San Francisco Chronicle; the Times-Union in Rochester, N.Y.; Newsday; and USA Today, among other news outlets, was the subject of a Metro page feature Sunday in the Washington Post - in her current role as a judge.
"Howze's influence is substantial," Keith L. Alexander wrote. "She's often the first judge to hear details of some of the most serious allegations filed in the District. She sees many defendants soon after they are charged, deciding whether they should be released or held until their next hearing or perhaps sent to drug or mental-health treatment. Her rulings can have an immediate effect - even if a defendant's trial is months away." She started her career in a convent before moving to newspapers.
". . . In 1985, she adopted two sisters, both with special developmental needs, from a mother who was a drug abuser. She later adopted their infant sister. As a single parent working long hours, she left newspapers in 1991 to seek a job that would let her devote more time to her children.
"Her year-long struggle to adopt her older daughters led to legal work on child welfare and adoption. She investigated cases of neglected special-needs children for 11 years, work she calls the most stressful she has done.
" 'My goal each day was to wake up and read the newspaper and not see any of their names in the paper as having committed a crime or dead,' she said.
"She was appointed a magistrate judge in 2002."
Iraq to Disneyland: Emotional Roller Coaster
"We'd spent three days at the Disneyland Resort in Anaheim with my
friend, Saif Alnasseri, his wife, mother and 5-year-old daughter," Kimi Yoshino wrote Sunday for the Los Angeles Times.
"Like my husband, whose name is also Saif, he was an Iraqi translator I met in 2007 during my rotations in the Los Angeles Times' Baghdad bureau. A little over three years ago, under a refugee program granted to Iraqis who assisted the U.S. military or media, he immigrated to New Jersey. This was their first trip to California.
". . . 'If you want to have fun in Baghdad, it's really, really hard to find a place that makes you feel completely relaxed and enjoy your time without fear, without anxiety that something wrong could happen at any time,' my friend Saif, 33, said.
"Even at the zoo or the theme park, you always think that something might happen at any time - like a crazy person could blow himself up in the crowd or there might be a random shooting or a random rocket might fall.
"My husband agreed: 'It might sound like a cliche, but those things happened at least once a day.'
"After living through that, he said, Disneyland has a surreal quality that is like 'an emotional roller coaster moving from one extreme to another.'
"Since my husband arrived in the U.S. in 2009 after months of red tape, I've heard him remark on numerous occasions how youthful everyone looks here - and how relaxed. In Iraq, a life of fear and anxiety has taken a toll. Forty-year-old Iraqis look 10 years older. And there's an exhaustion, a sadness, that seems to permanently cloud their eyes.
"That was part of the culture shock of Disneyland, so much joy all packed into one place."
Media Feel Hostility as S. African Party Celebrates
"On January 8, 1912, South African intellectuals — including pioneering black newspaper publishers Pixley ka Isaka Seme, editor of Abantu-Batho, and John Langalibalele Dube, editor of Ilanga lase Natal — formed Africa's oldest liberation movement, the African National Congress (ANC), in the Wesleyan Church in Bloemfontein," Mohamed Keita wrote Monday for the Committee to Protect Journalists.  
"During weekend centennial commemorations of this event, [Twitter] users made the #ANC100 hash tag a global trend. The lively social media debate illustrated both the discomfort many Africans feel toward criticism of their leaders, and the role as scapegoat that the media is currently playing as the ANC struggles to hold onto a decisively positive legacy. It also highlights the growing influence of social media in South Africa, where the number of Twitter users is estimated to have increased 20-fold in little more than a year, according to Bizcommunity.com.
"The current ANC leadership has maligned the South African news media for what it calls unfair coverage. The National Assembly that it controls has passed an information bill (still pending approval by the upper house) that would restrain investigative reporting and make information harder to get — apparently all in a bid to suppress corruption stories and silence criticism. As such, journalists tweeting critically about the party over the weekend met with antagonism on social media from ANC supporters."
* Charlayne Hunter-Gault, theRoot.com: The African National Congress Turns 100
* "Coming this January, Oprah is welcoming the cast of 'Roots' into her Montecito, Calif., home for an intimate reunion," reports EURWeb.com. "The epic and classic series, which includes Cicely Tyson, LeVar Burton, Leslie Uggams, John Amos, Louis Gossett, Jr., and Ben Vereen, first debuted 35 years ago, sweeping the nation and bringing African Americans back home. . . .The move is part of OWN's way of marketing to a black audience, being that one of the network's goals is to win over the minority masses. The reunion special will air on Jan. 16, Martin Luther King, Jr. Day."
* "Digital subscription plans limiting non-subscribers' access to online content will go into operation at six additional Gannett Co. Inc. U.S. Community Publishing papers," NewsandTech.com reported Friday. "The Poughkeepsie (N.Y.) Journal, the St. Cloud (Minn.) Times, the Argus Leader in Sioux Falls, S.D., the News Journal in Wilmington, Del., (Melbourne) Florida Today and the Journal and Courier in Lafayette, Ind., will join the Tallahassee (Fla.) Democrat, Greenville (S.C.) News and the Spectrum in St. George, Utah, as USCP papers with paywalls."
* "Univision has signed its first affiliate deal for its trio of telenovela, sports and news channels, as part of far-reaching distribution pact with Dish Network," Mike Reynolds reported Monday for Multichannel News.

* "Univision today announced the launch of NoticiasUnivision, a brand new news app for iPhone and iPod touch, now available on the App Store. The app delivers real-time coverage, national, local and international news as well as relevant content about the user's city or hometown," the network announced on Monday.

* In New York, "Without much fanfare, Channel 11 has established a nice complement of reporters. The latest 'get' for the Tribune-owned station is Jay Dow. He is a two-time Emmy Award winner, who just wrapped up a decade with Channel 2," Jerry Barmash reported Monday for FishbowlNY. ". . . The accomplished reporter no doubt leaves behind many memories; professional and personal. Dow's uncle was the late CBS News correspondent Harold Dow."

* "Why? To fulfill the dream he had as an eighth-grader in the Kansas City area," John Kiesewetter wrote Friday for the Cincinnati Enquirer, speaking of reporter Syed Shabbir. "So after just one year, he quit WCPO-TV (Channel 9) to work for Scripps' sister station WSHB-TV in his hometown of Kansas City. ". . . 'I came to Cincy, because I needed to get out of Topeka. It only took me a year before I got tired of the small market stories and small market pay (in Topeka). . . ."

* "Flora Zhang joins CNN.com this week as an Opinion producer. Zhang will be based in New York and was previously a producer at The New York Times where she spent five years and was part of the team that launched the Room for Debate feature," Felicia Pride wrote Monday for FishbowlNY.
* "Sixty-three years ago this week something happened in Three Rivers, 80 miles south of here, that put the town on Page 1 of the Jan. 13, 1949, New York Times: 'GI of Mexican Origin, Denied Rights in Texas, to Be Buried in Arlington,' " Bob Richter, public editor of the San Antonio Express-News, wrote on Sunday. ". . . However, the 'story' was based on falsehoods and, unfortunately, journalists here at the Express-News and elsewhere have contributed to the legend."

Follow Richard Prince on Twitter.
Facebook users: "Like" "Richard Prince's Journal-isms" on Facebook.
Journal-isms is published on the site of the Maynard Institute for Journalism Education (www.mije.org). Reprinted on The Root by permission.