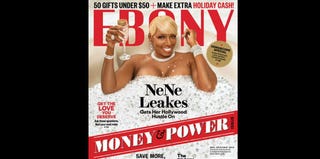 "The Real Housewives of Atlanta firebrand NeNe Leakes graces the current cover of Ebony — bathing in what appears to be a tub of diamonds — and people aren't happy about it, Karu F. Daniels wrote Tuesday for the Daily Beast.
". . . 'Those who take issue with reality television's role in pop culture have questioned whether Ebony made the right decision by glorifying one of its most popular characters,' said Amy Dubois Barnett, the magazine's editor in chief.
" 'As the magazine of record for the black community, it is Ebony's role to both reflect the aesthetics and interests of our readership, and to inspire them toward higher aspirations for themselves and for all African Americans. The November issue featured the Obamas on the cover, and was a perfect example of the latter. The December/January issue featuring NeNe Leakes on the cover is an excellent example of the former.' "
Pair Buys Back Magazine from Magic Johnson Firm
"Len Burnett, Co-CEO, Group Publisher at Uptown Media Group, has left the company after striking a deal to buy back Uptown magazine from the Earvin 'Magic' Johnson-backed company, Vibe Holdings LLC, according to industry watchers," Target Market News reported on Tuesday. "The split follows the departure of Burnett's longtime partner, Co-CEO Brett Wright, who left the company in May. The two will re-unite as the co-owners of Uptown.
". . . Uptown has been part of Vibe Holdings LLC for almost two years. It was combined with other media brands after Ron Burkle's and Earvin 'Magic' Johnson's Yucaipa Johnson Fund and InterMedia Partners merged their Vibe and Uptown businesses with the BlackBook Media business and The Access Network Company. In addition to Vibe and Uptown, the company also owns the assets of the television show, Soul Train."
"Uptown was founded by Burnett and Wright in 2004. It currently has a circulation of 300,000 and is distributed in New York, the Washington-Baltimore region, Chicago and Atlanta."
Burnett told Journal-isms by telephone Wednesday that he could not talk because he was on a conference call and said he would call back.
Johnson's Aspire cable channel debuted in June. Aimed at black families, it was then available in about 7 million homes and in 16 of the top 25 African American markets, including New York, Atlanta, Chicago and Washington, the Associated Press reported.
Media Consolidation Hits People of Color, Groups Say
"FCC Chairman Julius Genachowski is reported to have rule changes on the fast-track that would allow broadcast-newspaper crossownership in the 20 largest markets and further radio consolidation as well — but public watchdog groups opposed to further media consolidation are girding for battle," Jack Messmer wrote Wednesday for TVNewsCheck.
"If the FCC passes the rule changes without any public hearings — and this could happen before the end of the year — Free Press President-CEO Craig Aaron vows that his group will sue the commission yet again. His view that the FCC is acting in haste without allowing for public input was echoed repeatedly in a telephone press conference today by Free Press and six other organizations.
With further media consolidation, "people of color are going to be frozen out from having a voice," Alex Nogales, president and CEO of the National Hispanic Media Coalition, said during the call. "Who is employed by the media is directly related to who owns the media," added Wade Henderson, president and CEO of the Leadership Conference on Civil and Human Rights.
Bernie Lunzer, president of the Newspaper Guild, said allowing newspaper companies to own more broadcast outlets will lead to fewer women and people of color in reporting slots as the total number of employees declines.
Henderson and others on the call "insisted that the Third Circuit Court of Appeals was clear that the FCC must evaluate the impact on minority and female ownership before making any rule changes — and that the commission has not done so," Messmer reported.
"The groups noted that according to FCC statistics people of color own just 3.6% of all full-power TV stations and 8% of radio stations; and that women own less than 7% of all broadcast outlets."
Others on the call included Jesse Jackson, founder and president, Rainbow PUSH Coalition; Mee Moua, president, Asian American Justice Center; and Rashad Robinson, executive director, ColorOfChange.org.
Bruce A. Dixon, Black Agenda Radio: Obama's FCC Intends To OK Unlimited Concentration of Radio, TV, Newspaper Ownership in Top 20 Markets
FAMU's Knight Chair Heading to Asia After 20 Years
After 20 years as Knight chair in Journalism Student Enhancement at Florida A&M University, Joe Ritchie is leaving to take up residence in Asia.
"Yes, I've decided that after 20 years — I never thought I'd ever be in any place that long — it was time to move on," Ritchie said by email. "And, predictably enough, it's the inner expat that has been dying to bust out. I plan to return to the IHT [International Herald Tribune] in Hong Kong this summer, then stay on in Hong Kong in some capacity. I haven't been specific with folks yet, because I've got a few balls up in the air, so nothing's firm yet. I've told folks here I will be pursuing other interests in Asia."
Ritchie, who reads and writes German and Dutch, has worked as a reporter or editor at the Washington Post, the New York Times and the International Herald Tribune and had a brief term as visiting professor in the Journalism and Media Studies Centre at the University of Hong Kong.
Ann Kimbrough, dean of the FAMU School of Journalism and Graphic Communication, said by email that Ritchie's position "will remain a chair for journalism professionals who possess a Master's degree in journalism and who have considerable multimedia experience. This week, I will announce the members of the search committee. The search will begin in earnest in early 2013."
Eric Newton, senior adviser to the president of the John S. and James L. Knight Foundation, called it "one of the greatest jobs. I hope the candidates will be fabulous." First funded in 1990, the FAMU chair was among the first three that the foundation established, Newton said by telephone. Today there are 11.
Ritchie wrote, "As for students, they still need our support and mentorship…. not to mention increasingly a broader set of skills, just to be marginally employable in a shrinking market…. But I also think they need a good dose of some old-fashioned journalism values and far more exposure. More reading, more travel…. And yes, languages, which is one of the reasons I've been pushing study abroad the past few years.
". . . it does sadden me to see an ever-shrinking number of HBCU students enrolling in journalism and mass communication programs who have any real strong interest in public affairs," referring to historically black colleges and universities. "Nearly half of our students are in the PR sequence, and half of those, as well as half of the students oriented toward broadcasting, seem to want careers in areas like entertainment and fashion. (huge sigh) Most frequently cited career goals: music video producer; special event planner (usually translating to: planning parties for celebrities, especially in the music field); fashion marketing; agent for musicians or sports figures….
"A few still aspire to more traditional careers in journalism; very few seem interested in newspapers or even news websites…. Some do broadcast journalism, but really see that as a bridge to doing other things in television and other electronic media.
"And probably largely because of a lack of resources, we're not seeing many of the kinds of great students that flooded our halls back in the mid-90s; we have a population that is probably over half 'alternative admits' – I've heard the figure 70 percent bandied about frequently." ["Alternative admits is jargon for students admitted who don't meet all of your normal admission requirements," he explained.] "Our typical student is less well informed about the world around her than her counterpart of a decade or two ago. There are exceptions (the two I sent to China being prime examples), but they are really far and few between."
D.C. Pacifica Station Upends Programming, Staff
One by one, volunteer program hosts at WPFW-FM, the Pacifica community radio station in the nation's capital, are being told that the show they are about to do will be their last.
The station has not yet informed listeners, but WPFW has decided to eliminate much of its music programming in favor of syndicated talk, including the Tavis Smiley radio show; Smiley's "Smiley and West," with activist Cornel West; and Michel Martin's "Tell Me More," which airs on public radio's WAMU-FM, from NPR, according to staffers. More than a dozen people have been let go in this effort to boost listenership, the staffers said.
Pacifica's five stations not only are noncommercial but also politically progressive. The D.C. operation is funded 95 percent by community members and considers itself rooted in the black community. Its talk programs on everything from local politics to nutrition are supplemented by music that include from jazz to zydeco, salsa, calypso, hip-hop and R&B oldies.
The station is perpetually facing financial challenges. Station Manager John Hughes said on the station's website, "The year ahead will be one of change for WPFW … a year of transformation. We are facing two stark realities: we must move from the building that has housed us for the past 15 years; and most, if not all, of our equipment must be replaced."
Hassan Abdul-Ali, who said he has been with the station 18 or 19 years, said Hughes told him Wednesday that he had been dismissed and that the show he was about to do would be his last. He thanked listeners on air without telling them details. So did Katea Stitt, the music and cultural affairs director who does a morning jazz show and is also shop steward for the Screen Actors Guild-American Federation of Television and Radio Artists.
"The sweeping changes are the culmination of a bleak period of WPFW's history," Stitt told Journal-isms by telephone. "There's been a constant management-union struggle. You would think the worker is first" at a station with Pacifica's political leanings. Many are working half-time or three-quarters time to save the station money.
A year ago, staffers and volunteer programmers declared no confidence in Hughes, formerly chief operating officer at Howard University's television station, WHUT-TV.
News director Askia Muhammad told Journal-isms he would lose the Tuesday morning jazz show he hosted but would produce a new "Morning Brew," the model for which he described as a combination of "Democracy Now!" Pacifica's daily newsmagazine hosted by Amy Goodman from New York, and "The Tom Joyner Morning Show," the syndicated commercial music-and-talk show geared to African American adults.
"I'm going to try to make it work," Muhammad said by telephone. "We're very, very underresourced. It's going to be a very real challenge for us."
Some of those leaving are iconic, said Stitt, daughter of fabled jazz saxophonist Sonny Stitt. Brother Ah recorded with the legendary saxophonist John Coltrane and played with the New York Philharmonic. The women's-oriented "Sophie's Parlor" came to the station when it debuted in 1977 and had been part of Georgetown University's radio programming. "It's like a death of the spirit," Stitt said. The imported shows do not match WPFW's mission, she said, especially as Smiley's show is underwritten by Wal-Mart. Pacifica boasts of its freedom from corporate influences.
Hughes, reached at home by telephone Wednesday night, told Journal-isms, "Announcements are forthcoming." Asked when, he said, "We haven't decided at this point."
Dan Siegel, CounterPunch: The Battle for Pacifica
. . . Callers Denounce Station, Charging Betrayal
Caller after caller denounced WPFW-FM during a half-hour community call-in show Thursday morning as the Washington station announced new syndicated programming and the removal of several programs and program hosts.
Host David Whettstone of "Community Comment" posed a question about District of Columbia school boundary changes, but callers wanted to talk about what they called a lack of transparency and the change in programming.
One called for a boycott of the station in front of its offices Friday and a meeting Saturday at Busboys and Poets, a restaurant, meeting place and bookstore at 14th and V streets NW. "We need some answers," this caller said. Others said they would cease contributing to the community-supported station until they received satisfactory responses.
"We're here when you ask us for money, but that doesn't match up with what listeners are hearing," one said. A teacher started out by discussing the school boundary changes, but ended, "WPFW has far-reaching boundaries and potential for education. That's why we're so angry" and demand an investigation.
The station posted the first official information about the programming changes on its website and its Facebook page Tuesday.
Whettstone told callers that John Hughes, the station manager, would be available to answer questions during the "Managers Mailbox" show on Friday morning. At the end of the show, he announced that the show was being replaced by an hour-long program of news, interviews and call-ins. [Added Nov. 29]
Todd Burroughs blog, "Drums in the Global Village": " 'Save WPFW!' Ulp, Wait, Too Late :(
Jonathan L. Fischer, Washington City Paper: Big Programming Changes Are Coming to WPFW
CNN Wins Black, Hispanic, Asian Cable Vote
CNN had more African American, Hispanic and Asian/Pacific Islander viewers than the cable competition on election night, CNN said on Wednesday.
CNN had more viewers than Fox News Channel and MSNBC combined for each demographic. Compared with the broadcast networks, CNN also led in African American viewers in each demographic: total viewers, those ages 25-54 and those 18-34, the network said.
Paige Albiniak added for Broadcasting & Cable, ". . . CNN is the lowest-rated cable news network. Fox News Channel is basic cable's second-highest rated network, coming in behind only ESPN with an average of 2.6 million viewers in primetime, beating even NBCU's top-rated entertainment cable network, USA.
"Compared to last November, when there was no election, Fox is up 47% among total viewers and up 56% among news' key demographic of adults 25-54 in primetime. Fox News also boasts cable's top-two news programs, The O'Reilly Factor and Hannity, among that key demo. . . ."
Albiniak noted the indications that Jeff Zucker will assume the top CNN news post that Jim Walton will be leaving vacant. Zucker is the former head of NBCUniversal and the current executive producer of Disney-ABC's new talk show starring Katie Couric.
[Update: "Veteran news producer and former NBC Universal chief Jeff Zucker will become the president of CNN Worldwide in January, the network announced Thursday," CNN reported.]
Jonathan Capehart, Washington Post: No crow on Obama-Romney lunch menu
Esther J. Cepeda, Washington Post News Media Services: Hold the election crowing
Ta-Nehisi Coates blog, the Atlantic: The Obama Mandate in Context
Sam Fulwood III, Center for American Progress: Race and Beyond: The Republican Party Has No Interest in Courting Black Voters
Ruben Navarrette Jr., Washington Post News Media Services: Immigration reform's real roadblocks
Tony Norman, Pittsburgh Post-Gazette: Scrutiny of U.S. drone use is long overdue
Clarence Page, Chicago Tribune: If at first you don't secede …
Eugene Robinson, Washington Post: Breaking Grover Norquist's anti-tax pledge
Greg Sargent, Washington Post: Publicist confirms it: Fox News banned book critical of George W. Bush
DeWayne Wickham, USA Today: Julian Castro positions himself for 2016
Diversity Scarce in "Post-Industrial Journalism"
"We are living in the least diverse, least inclusive media environment we will inhabit for the foreseeable future, which is to say that the ecosystem forming around us will include more actors and actions than even today's environment does," according to "Post-Industrial Journalism: Adapting to the Present," a report Wednesday from the Tow Center for Digital Journalism at Columbia University.
It might be the only time "diverse" or "diversity" was mentioned in this look forward [PDF].
Authors C.W. Anderson, Emily Bell and Clay Shirky also wrote, "Many of the changes talked about in the last decade as part of the future landscape of journalism have already taken place; much of journalism's imagined future is now its lived-in present. (As William Gibson noted long ago, 'The future is already here. It's just unevenly distributed.') Our goal is to write about what has already happened and what is happening today, and what we can learn from it, rather than engaging in much speculation.
"The effect of the current changes in the news ecosystem has already been a reduction in the quality of news in the United States. On present evidence, we are convinced that journalism in this country will get worse before it gets better, and, in some places (principally midsize and small cities with no daily paper) it will get markedly worse. Our hope is to limit the scope, depth and duration of that decay by pointing to ways to create useful journalism using tools, techniques and assumptions that weren't even possible 10 years ago."
AP Vetoes "Homophobia" and "Ethnic Cleansing"
"The Associated Press has nixed 'homophobia,' 'ethnic cleansing,' and a number of other terms from its Style Book in recent months," Dylan Byers reported Monday for Politico.
"The online Style Book now says that '-phobia,' 'an irrational, uncontrollable fear, often a form of mental illness' should not be used 'in political or social contexts,' including 'homophobia' and 'Islamophobia.' It also calls 'ethnic cleansing' a 'euphemism,' and says the AP 'does not use "ethnic cleansing" on its own. It must be enclosed in quotes, attributed and explained.'
" 'Ethnic cleansing is a euphemism for pretty violent activities, a phobia is a psychiatric or medical term for a severe mental disorder. Those terms have been used quite a bit in the past, and we don't feel that's quite accurate,' AP Deputy Standards Editor Dave Minthorn told POLITICO."
Andrew Beaujon, Poynter Institute: NLGJA president: 'The AP is probably correct' to discourage use of 'homophobia'
"Time Magazine is set to unveil [its] Person of the Year 2012, and despite a year in which Latinos rose in prominence and coverage, undocumented immigrants in the U.S. are the only Latino representation in the group of 40 candidates," Adrian Carrasquillo reported Tuesday for NBCLatino.
"The general assembly of the Egyptian Journalists Syndicate on Sunday voiced its rejection of President Mohamed Morsi's constitutional declaration, threatening to stage a general strike in retaliation against Morsi's divisive Thursday declaration," Nada Hussein Rashwan reported Sunday for Egypt's ahramonline. The Constituent Assembly "rejected our proposal to stop the practice of jailing journalists for press offences and our proposal to keep news organisations independent of political groups," said Galal Aref, former head of the Journalists Syndicate.
Yvette Miley has been promoted to senior vice president at MSNBC, the National Association of Black Journalists announced last week. "Miley who retains the title of Executive Editor joined MSNBC in 2009 to oversee the network's dayside programming. . . . Prior to working at MSNBC she was the News Director at the NBC owned and operated stations in Miami and Birmingham," Ala. "She is a 1985 graduate of the University of Florida."
"At a time of major news developments in the Middle East and North Africa, the Arab-American media's efforts to meet the demands of its audience have been complicated by declining ad revenue, new technology, and growing competition from Arab outlets in the Middle East and North Africa, according to a new study by the Pew Research Center's Project for Excellence in Journalism," the project announced on Wednesday.
"Jason Pugh is joining WRC in Washington, DC as a sports reporter, general manager Jackie Bradford announced this morning," Merrill Knox reported Wednesday for TVSpy. "Pugh comes from West Palm Beach, where he was a sports anchor and feature reporter at WPTV-WFLX. He also works for ESPN 760 radio, where he hosts three shows and provides play-by-play for games."
"Joan Smalls is having quite the stellar year," Julee Wilson wrote Tuesday for Huffington Post. "The Puerto Rican supermodel wowed us on the cover of W magazine, landed a job as co-host on MTV's 'House of Style' and was the face of Fendi and Chanel's Spring 2012 campaigns. . . . The 24-year-old graces Vogue Turkey's first cover of 2013 in a gold-and-black embroidered dress with a sheer bodice . . . For Vogue Japan, the glossy opted for a more refined ensemble with Joan striking a pose in a long black dress with a fancy embellished neckline."
In Columbus, Ohio, "A libel lawsuit between two weathermen at WCMH-TV (Channel 4) has been settled, according to documents filed in the case," Theodore Decker reported Monday for the Columbus Dispatch. "Bob Nunnally sued fellow forecaster Jym Ganahl this month in Franklin County Common Pleas Court."
"In the first major sweep of the 2012-2013 television broadcast season, KXLN Univision 45 is Houston's No. 1 broadcast station among Adults 18-34, Adults 18-49 and Adults 25-54 in all the major dayparts: daytime, early fringe, early news, primetime, late news and late fringe, regardless of language," Mike McGuff reported Tuesday on his media blog.
"Oprah Winfrey recently resurrected her annual My Favorite Things holiday gift giveaway on the OWN Network," Jenice Armstrong told readers Monday in her Philadelphia Daily News column. "My version, which replicates her gift extravaganza on a local level, never went away! . . . Simply nominate someone you know who really could use a bit of seasonal cheer. Last year's winners included a mom going through some hard times who was nominated by her 11-year-old son, and a little girl who dreamed of seeing "The Nutcracker," nominated by a family friend who knew her mom couldn't afford the tickets."
"Last week, a 28-year-old Henderson man named Barry Wilkerson was shot and killed," columnist Barry Saunders wrote Tuesday in the News & Observer in Raleigh, N.C. "Before his mama had a chance to pick out a suit and tie in which to bury him, a local TV station was reporting on his criminal past, even, for dramatic effect, slowly scanning the camera across the arrest record. . . . Sullying the dead unnecessarily is not a new phenomenon, but it still enrages — even when the newspaper does it."
Columnist Bessy Reyna of CTLatinoNews took Hartford Magazine to task on Wednesday. ". . . among the '50 Most Influential' there is not one person who is a Latino," Reyna wrote. "There are a hockey player, two college basketball coaches, one university president, a couple of restaurant owners, heads of nonprofits, a disgraced utility company president and many CEOs."
"TNT will debut the drama 'Monday Mornings' on — appropriately — Monday, February 4, 2013," Alex Weprin reported for TVNewser on Tuesday. "The series, which is from David E. Kelley and CNN's Dr. Sanjay Gupta, is based on Gupta's book of the same name. Actors Ving Rhames and Alfred Molina have signed on as stars."
"I was recently surprised to receive a Facebook friend request from Tina Brown," media blogger Jim Romenesko wrote on Tuesday. "I accepted it and quickly discovered that my new virtual pal — Tina A. Brown — wasn't the Newsweek/Daily Beast editor; she's a struggling journalist from Savannah, Georgia." Brown wrote Romenesko, "I've used the same byline for 30 years. I can't remember how many times I've scheduled an interview, shown up and the person asked with a dubious tone 'you're Tina Brown?' I used to think it was because they were surprised by my race. Some of my telephone sources from all over the country have said I don't sound black. They ask to see my press pass when we meet."
"Sudanese security agents blocked the Monday editions of three newspapers that had covered the arrest of a former spy chief over an alleged plot, journalists said, a move that highlighted the sensitivity of the issue," Reuters reported.
On Monday, the Committee to Protect Journalists "condemned the murder of Brazilian journalist Eduardo Carvalho in Campo Grande, the capital of Mato Grosso do Sul state, which borders Paraguay and Bolivia. Carvalho was the editor and owner of news website Última Hora News, which frequently denounced local corruption, according to news reports."
"Somali authorities must immediately release Ibrahim Mohamed Adan, a correspondent for the Somali service of the BBC, who has been held for nearly a week in Mogadishu without charge," the Committee to Protect Journalists said Monday.
Follow Richard Prince on Twitter.
Facebook users: "Like" "Richard Prince's Journal-isms" on Facebook.
Journal-isms is published on the site of the Maynard Institute for Journalism Education (www.mije.org). Reprinted on The Root by permission.