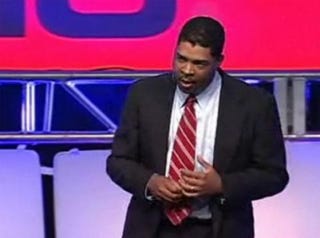 Keith Clinkscales, who announced his departure as an ESPN senior vice president three weeks ago, filed a defamation suit Wednesday saying he was being slandered by a former colleague who is spreading a "flat-out lie" that he masturbated under an iPad while sitting in an airplane next to ESPN sports reporter Erin Andrews.
"Clinkscales, who is black, claims Joan Lynch, who is white, lied about him to fellow colleagues because he was promoted over her to senior vice president of content development," Scott Shifrel and Bill Hutchinson reported late Wednesday for the Daily News in New York.
"The lawsuit was filed in Manhattan Criminal Court hours before Deadspin.com quoted an anonymous source detailing Clinkscales' alleged midair incident with Andrews."
On Friday, the News' Michael O'keeffe followed up with a report that Clinkscales' lawyer, Judd Burstein, said he filed the defamation suit, ensuring that the allegations would become public, "because the fondling allegation is 'ludicrous' and, he said, because Deadspin is not a credible news source.
" 'She should not have done what she did,' Burstein said of Lynch. 'She shouldn't be able to get away with this.' "
The story quickly went international. Britain's Daily Mail posted a lengthy story with such details as:
"Once dubbed 'the boy wonder of black magazine publishing' by The Washington Post, Mr. Clinkscales became chief operating officer of the hip-hop bible Vibe aged 29 before becoming a senior vice president at ESPN in 200.
"In her executive producer role, [Mrs.] Lynch most notably headed the development of the Emmy-nominated documentary series '30 for 30'.
"Miss Andrews joined the company in 2004 and is a co-host of the ESPN entertainment show College GameDay. She finished third in the spring 2010 season of Dancing With The Stars."
ESPN spokesman Josh Krulewitz told Journal-isms and others who asked, "We have no comment on the lawsuit. With respect to these reports, we want to state very clearly that in accordance with ESPN policies, if a claim is brought to our attention, it is taken very seriously and responded to appropriately."
In the Huffington Post, Katherine Fung wrote, "Andrews, who was the target of a peeping tom in 2008, reportedly spoke to several people about the incident, but ultimately did not go to HR and 'just wanted it to go away.' "
The Daily, the tablet-based news publication launched for iPads this year by Rupert Murdoch's News Corp., reported, "Burstein said the idea of hiding under an iPad is 'ridiculous' and told Flash, 'I'm thinking of bringing a defamation suit on behalf of his penis.' "
Burstein told the Daily News, "Deadspin has a long history of reporting on boorish behavior by ESPN executives and on-air personalities, and Burstein said that was a factor in his decision to file the suit.
" 'That was factored into the equation, the lack of respect in the sports world for Deadspin,' he said. 'If the allegation had come from a credible New York newspaper, I would have taken a different tact.'
". . . Deadspin has not confirmed or denied that Lynch, who will lose her job in January because the content development department once led by Clinkscales has been eliminated, was the anonymous source."
Clinkscales was ESPN's senior vice president/content, development and enterprise. Among the projects he supervised was the award-winning "30 for 30," a series of 30 documentaries celebrating the 30th anniversary of the Disney-owned sports network.
When Clinkscales and ESPN announced his departure, both sides said they planned to work together in Clinkscales' new role as independent producer.
"In the coming weeks, ESPN will make a more formal announcement regarding our continued relationship with Keith and his new production company," ESPN spokesman Rob Tobias told Journal-isms by email then. "Keith has a couple documentary film projects and some interesting web ideas. Not prepared to disclose yet. He has one in particular web idea that we [are] particularly interested in. We've worked with Keith for a long time and appreciated all the good work he did here." 
Bison Messink, ology.com: Did Deadspin Cross The Line With ESPN Exec Masturbation Story?
New Day-to-Day Leader to Focus on "Issues of Justice"
Joel Dreyfuss is stepping down after two years as managing editor of TheRoot.com and will be succeeded by Sheryl Huggins Salomon, the deputy editor, publisher Donna Byrd announced Saturday night.
Byrd made the announcement at a gala honoring "The Root 100," its third annual list of the "most influential African Americans Under 45" at the Andrew W. Mellon Auditorium on Washington's stately Constitution Avenue. Audience members groaned in disappointment when Byrd said Dreyfuss, 66, was leaving.
The Haitian-born journalism veteran told Journal-isms he was moving to Paris to work on a book interweaving the stories of his Haitian ancestors with the history of Haiti. He came to the Washington Post Co.-owned website with more than 30 years' experience in print, broadcast and online publications. In his two years there, Dreyfuss increased the site's story count and its use of news analysis and opinion pieces by journalists and other professionals. (Full disclosure: Journal-isms also appears on the Root.)
"I'd been working around the idea for about 20 years" of developing a first-rate black publication that did not "underestimate black folks," Dreyfuss said. "The Root was the opportunity I was looking for."
Dreyfuss brought Salomon to the site in February 2010 shortly after she was laid off as managing editor of the old AOL Black Voices. AOL trimmed about 100 positions.
"Joel leaves a fantastic legacy," she told Journal-isms, "and what you'll see next year will be an intense focus on the 99 percent" — the bulk of Americans. Salomon said the site would focus on "issues of justice" and, in the 2012 election year, "a more intensive focus on voting and voter suppression, and educating our readers about our rights.
"If it ain't broke, don't fix it," she said of the Root.
Harvard scholar Henry Louis Gates Jr., the Root's editor-in-chief, co-founded the site with Donald E. Graham, chairman of the Washington Post Co. Dreyfuss leaves Nov. 25 as its third day-to-day editorial leader.
The Root debuted in January 2008 with the New York Times' Lynette Clemetson as managing editor, declaring itself "a daily online magazine that provides thought-provoking commentary on today's news from a variety of black perspectives." Danyel Smith served briefly as its second managing editor.
September figures from the comScore, Inc., research firm place theRoot.com in the top tier of websites targeting African Americans, with 906,000 unique visitors that month, up 75 percent from the previous year.
The Associated Press has updated its stylebook entry on "illegal immigrant," rejecting once again the "undocumented" term recommended by the National Association of Hispanic Journalists, but approving "living in the country without legal permission" as an acceptable variation.
"Undocumented might imply that illegal immigration is simply a matter of not having one's papers in order," Dave Minthorn, AP Stylebook co-editor, said through an AP spokesman. "It may be used to minimize what could be a violation of the law — evading controls at a border or living in a country without legal permission.
"So we advise against using the term on our own. If an authority uses it, and we quote the authority, that's different.
"But as a blanket synonym for illegal immigrant? No, it's usually imprecise or inaccurate."
The new entry for "illegal immigrant," disseminated this week, says, "Used to describe someone who has entered a country illegally or who resides in a country in criminal or civil violation of immigration law. Acceptable variations include living in the country without legal permission. Use of these terms, as with any terms implying illegalities, must be based on reliable information about a person's true status. Unless quoting someone, AP does not use the terms illegal alien, an illegal, illegals or the term undocumented."
Minthorn said, "We both broadened the definition and made it more nuanced, including specifying acceptable alternative phrasing such as living in a country without legal permission. We believe the AP language is precise and neutral in our use of illegal immigrant."
The previous entry read, "Used to describe someone who has entered the country illegally or who resides in the country illegally. It is the preferred term, not illegal alien or undocumented worker. Do not use the shortened term an illegal or illegals."
The term first entered the Stylebook in 2004 during post 9/11 discussions about border security, AP spokesman Paul D. Colford said.
NAHJ addressed the terminology in 2009 in its "Resource Guide for Journalists."
"While many national news outlets use the term 'illegal immigrant,' this handbook calls for the discussion and re-evaluation of its use. Instead of using illegal immigrant, alternative labels recommended are 'undocumented worker' or 'undocumented immigrant,' " it said.
In September, the Society of Professional Journalists, after an emotional plea from Rebecca Aguilar, a member of SPJ and of NAHJ, urged journalists and style guide editors "to stop the use of illegal alien and encourage continuous discussion and re-evaluation of the use of illegal immigrant in news stories." 
Gustavo Arellano, OC Weekly: ¡ASK A MEXICAN!: "Illegals" and The "N-Word" 
Leonard Pitts Jr., Miami Herald: Looking for a job? Here's something for you
"It's been four days since Politico reported that two women once accused Republican presidential candidate Herman Cain of sexual harassment in the late 1990s, thus upending the Republican race and driving media organizations to dig into the candidate's tenure as head of the National Restaurant Association," Michael Calderone wrote Thursday for the Huffington Post.
The Associated Press has reported that a third woman has also accused Cain of improper conduct.
"But even as the political press devotes extensive resources to covering the Cain story, major news organizations — such as The New York Times, NBC News, ABC News, the Washington Post and Politico — have held back the names of the two women," Calderone continued.
However, on Friday came evidence that the continuing story might not mean very much to Republican voters.
"Businessman Herman Cain and former Massachusetts governor Mitt Romney are running nearly even atop the field of 2012 GOP presidential hopefuls, a new Washington Post-ABC News poll shows, with most Republicans dismissing the harassment allegations that over the past week have roiled Cain's campaign," Jon Cohen reported for the Post.
Also on Friday, lawyer Joel P. Bennett said one of the women stands by her allegations but is choosing not to discuss them publicly. She "sees no value in revisiting" the complaint, Bennett said, according to Brian Montopoli, reporting for CBS News.
Calderone's story said, "Joel P. Bennett, an attorney for one of the women involved, told The Huffington Post that he's currently fielding about 150 media inquiries a day and has had discussions with reporters about the issue of naming names. 'I would just tell them, she's a private person,' Bennett said, of conversations with reporters. 'She doesn't want to be a public figure and it's their call.'
"That particular call has been a topic of discussion in newsrooms all week, including at the Associated Press.
"On Wednesday, the AP broke the news that a third women who worked for the NRA had considered filing a complaint against Cain over 'what she deemed aggressive and unwanted behavior.' The AP did not report the name of the woman, who spoke on the condition of anonymity.
". . . The Cain campaign has been taking shots all week at the 'inside-the-Beltway media' — a phrase tossed out immediately after the Politico and AP scoops — and reporters' use of anonymous sources. However, shooting the messenger hasn't worked out too well. As reporters dig in and ask more questions, Cain has repeatedly changed his story, shifting from originally claiming not to have known about any settlement, to acknowledging some details of past complaints made against him. And the controversy hasn't gone away.
"Still, the story may recede from the headlines if one of the accusers doesn't eventually come forward and speak on the record. In these types of political scandals, it often seems like only a matter of time before a major network or newspaper announces its exclusive." 
Danielle Belton, the Black Snob: Can You Count All The Herman Cain Crises? The Snob's Got The List!  
Wayne Bennett, the Field Negro: "The Ladies Man"  
Stanley Crouch, Daily News, New York: Why the Koch brothers love Herman Cain: The right-wing billionaires care only about their bottom line 
Eric Deggans blog, St. Petersburg (Fla.) Times: New ad from Herman Cain supporters puts shameful "high-tech lynching" remark centerstage  
Jenée Desmond-Harris, theRoot.com: Wait, Isn't the Right Supposed to Be Racist?  
Joel Dreyfuss, theRoot.com: Conservatives Play Race Card for Cain  
Jim Geraghty, National Review: New TV Ad for Cain: 'A High-Tech Lynching'  
Nia-Malika Henderson, Washington Post: Cain camp considering legal action against Politico  
Eugene Kane, Milwaukee Journal Sentinel: Krusick, Cain use race to their own ends  
Greg Marx, Columbia Journalism Review: AP Finds Republican Candidates MIA on Housing Debt  
Tony Norman, Pittsburgh Post-Gazette: Whites in GOP find comfort in Cain  
Rochelle Riley, Detroit Free Press: Will the real Herman Cain please stand up — and drop the whole lynching charade?  
Eugene Robinson, Washington Post: Is Romney really the GOP's choice?  
Marisa Treviño, Latina Lista blog: Rick Perry emerges more and more as a reluctant ally to Latinos  
Jill Vejnoska, Atlanta Journal-Constitution: Gloria Cain's quiet presence keenly felt
"CNN today confirmed what has been floating around the media reports for a while; anchor Soledad O'Brien has been drafted to host a new 7 a.m. show to replace the channel's American Morning program," Eric Deggans wrote Thursday on his St. Petersburg (Fla.) Times blog. "Former MSNBC and ABC News anchor Ashleigh Banfield will also come over to co-host a 5 a.m. morning show also planned for 2012.
"This two-hour show is a rare second act for O'Brien, who was replaced on American Morning by Kiran Chetry back in 2007 due to low ratings. But current CNN/U.S. president Ken Jautz was not in power then, and O'Brien has distinguished herself with her attention-getting Black in America and Latino in America documentary reports. (let's hope she can still find the time to crank out one or two while working mornings).
". . . CNN's press release says the shows, which weren't named, will 'launch a new format of news and conversation' that the channel has dubbed a 'conversational ensemble program.' Without an example, it sounds like a shot at the salon-style format of Joe Scarborough's Morning Joe on MSNBC."
Banfield will join former Telemundo Chicago anchor Zoraida Sambolin. "With O'Brien and Sambolin, it also feels like an attempt to counter rivals on MSNBC and Fox with the kind of ethnic diversity you see on morning news shows on the networks," Deggans continued. "Cable has sometimes felt a bit behind the scenes in that regard, with Fox and Friends and Morning Joe decidedly lacking in permanent co-anchors of color." 
Chris Ariens, TVNewser: Soledad O'Brien on her return to CNN mornings: 'Absolutely, positively everything is different'
Two new national surveys of generational differences in political attitudes find "that older generations — Boomers and especially Silents — do not fully embrace diversity," the Pew Research Center for the People & the Press reported on Thursday.
The Silent generation is defined as ages 66 to 83; Baby Boomers ages 47 to 65.
"Fewer in these groups see the increasing populations of Latinos and Asians, as well as more racial intermarriage, as changes for the better. For many Silents in particular, [President] Obama himself may represent an unwelcome indicator of the way the face of America has changed. Feelings of 'unease' with Obama, along with higher levels of anger, are the emotions that most differentiate the attitudes of Silents from those of the youngest generation."
The polling was conducted by the Pew Research Center for the People & the Press and the Pew Research Center's Social & Demographic Trends project.
The survey said this about Millennials, who are 18 to 30 (Generation Xers are ages 31 to 46):
". . . Millennials are a racially and ethnically diverse generation. Only 59% of Millennials are white non-Hispanic. They are well acquainted with [the] changing face of America and overwhelmingly think these changes are good for the country.
"The racial gap also helps explain the greater liberalism of Millennials when compared with older generations. The racial factor, however, mutes rather than explains away the ideological and partisan gaps between Millennials and older voters. For example, while 57% of all Millennials favor a bigger government with more services, just 44% of white Millennials do. But only about a quarter of whites in older generations (27%) support an activist government."
Referring to former Michigan Gov. Mitt Romney, a Republican presidential candidate, it continued, "Similarly, while 61% of all Millennials back Obama in a matchup against Romney, only 49% of white Millennials do. But this compares to 37% of older whites who back the president."
Elsewhere, the study compared attitudes toward Asian and Hispanic immigrants:
"The two largest groups immigrating to the U.S. over the past 50 years have been Asians and Hispanics. Overall, 30% say the growing population of Asians has been a change for the better; about the same percentage (28%) views the growing Hispanic population positively. However, more people say the growing share of Hispanics has been a change for the worse (22%) than say that about the growing share of Asians (12%).
"Millennials are more positive than any other generational group about the growing population of Asians — 43% say this has been a change for the better, compared with 30% of Gen Xers, 24% of Boomers and 27% of Silents. With regard to Hispanic immigrants, roughly one-third of Millennials and Xers say this group's growing population has been a change for the better. Among Boomers and Silents, smaller numbers (21% and 22% respectively) say this."
"A new study says Pittsburgh newspapers and newscasts present a distorted picture of black men and boys," the Associated Press reported.
"Researchers say that although blacks make up about a quarter of the city's population, they found fewer than one in 10 front-page newspaper stories over a three-month period in 2010 featured black men and boys, and of those that did, 37 percent were crime stories. The study, titled 'Portrayal and Perception,' says 86 percent of local television news featuring black men and boys focused on crime.
"The Heinz Endowments' African-American Men and Boys Task Force funded the study, which was presented Tuesday at the University of Pittsburgh during a daylong conference of scholars, community members, and news media executives."
In the study, the endowments said: "When The Heinz Endowments decided two years ago to examine how Pittsburgh newspapers and local television newscasts cover African American males, it wasn't that the foundation expected to be surprised by the results [PDF]. If a reminder were needed that black people are often ambivalent about how the news media covers African Americans, it came quickly when the Endowments' African American Men and Boys Task Force conducted a series of 'community conversations' about the challenges black males face in the region. Local residents who attended the meetings cited example after example of what they viewed as unbalanced and even damaging reporting.
"But it was the vehement expression of concerns during those discussions in 2009 that led the task force to include the power of storytelling in its strategy for finding ways to improve life outcomes for black men and boys. Endowments program staff had already identified critical issues to address, such as education, employment, identity and character development. As part of the response to local African American residents' comments about the media, the first communications project was to commission an evaluation of Pittsburgh media that could go beyond anecdotal observations in assessing the coverage.
"Based on the alarming results from the first audit by Miami-based Meyer Communications LLC, it was decided that a deeper statistical analysis of some of the issues raised was needed to further solidify the original findings. The Pew Research Center's Project for Excellence in Journalism, located in Washington, D.C., conducted another study using a different statistical approach. Each is included in this report and presents some findings that, while anticipated, yielded more than had been expected. The Meyer evaluation, for example, noted an overall dearth of stories about African American male youth. The Pew audit found a similar phenomenon in the coverage of African American women, and, in most of those accounts, the women were victims of crime or accidents.
"Both analyses concluded that a disproportionate amount of Pittsburgh news coverage of African American men and boys focused on crime. The Meyer team reported that crime headed the list of all news topics related to the group, while the Pew study showed that, when considering television and newspaper stories together, crime coverage ranked second only to sports. To be sure, these were sobering confirmations about news stories involving African Americans in general and African American males in particular. These results could have been discouraging to the Endowments and its community partners; instead, the findings have fueled efforts to encourage mainstream media to broaden their coverage of black men and boys and to support projects that put media in the hands of African American males, enabling them to tell their own stories and to challenge those told about them.
" 'We just aren't portrayed well as people who are intelligent or thoughtful or interested in things like the environment or social causes,' said Pittsburgh psychologist Walter Howard Smith Jr. during an interview included in the Meyer study. 'It's not as if you never see images of us in those areas. It's just that you don't see them, I think, at the level at which we [have] interest in those realms … We are interested, and we are complex people.' " 
Michael A. Fuoco, Pittsburgh Post-Gazette: Media urged to change portrayal of blacks
New York black activists are pushing for longtime radio broadcaster Imhotep Gary Byrd to succeed the ailing Gil Noble on the WABC-TV public affairs show that replaces Noble's "Like It Is."
Dale Davis, the station's general manager, told Journal-isms Friday that Byrd is under consideration.
"The most recent edition of 'Here and Now' that aired on WABC TV Sunday, October 30th in the time slot formerly held by Gil Noble's award winning show 'Like It Is,' was in some ways the worst of three shows that have been aired in that slot since Gil Noble's retirement," the Black Star News asserted on Monday.
Referring to the Committee to Eliminate Media Offensive to African People, it continued, "Part of the reason may be the fact that two of the guests scheduled to be on the show, A.T. Mitchell of Man Up Inc., and New York State Senator, Eric Adams refused to cross the CEMOTAP picket line of over 100 'Like It Is,' supporters marching in front of WABC TV at the time the show was being taped.
Imhotep Gary Byrd". . .The primary reason for the poor quality of the show, however, was the absence of Gil Noble or a Gil Noble type host such as Gary Byrd."
Byrd's bio [PDF] says, "Imhotep Gary Byrd is the award-winning host, creator, and executive producer of The GBE, the longest running black radio broadcast in the history of New York City. His career as a multi-media radio personality, spoken word and recording artist, songwriter, and motivational speaker has always focused on 'raising human consciousness through communications.' In a career that spans over 40 years, Byrd, a highly respected modern day griot, is known for breaking barriers."
Davis told Journal-isms by email, "We are still using various hosts from our news department, to extend an opportunity to several of our employees who have expressed an interest in hosting the program. We are also having discussions with some people outside of Channel 7, including Gary Byrd."
"A Milwaukee Journal Sentinel photographer is the latest journalist to be arrested while covering the Occupy Wall Street demonstrations that have sprung up across the nation, raising questions about how police should define and handle reporters documenting the protests," Kirsten Berg reported Friday for the Reporters Committee for Freedom of the Press.
"Although the detentions and arrests have raised alarm with some media organizations, police contend that it is often difficult to separate the journalists covering the events from those participating in the protests, especially when making mass apprehensions.
"The Sentinel's Kristyna Wentz-Graff was photographing the arrest of a protestor Wednesday, who was marching as part of a solidarity rally that started at the University of Wisconsin-Milwaukee, when she herself was restrained and arrested by an officer. She and the other two protestors have since been released without charge and the city attorney's office has yet to determine whether they will issue citations.
". . . Wentz-Graff's apprehension is not the first arrest of a reporter in Milwaukee this year, nor is it the first arrest of a reporter covering demonstrations related to the Occupy Wall Street movement that started in mid-September.
"Perhaps garnering the most attention are the reporters who have been arrested at the original Occupy Wall Street protest in New York, where some journalists had voiced concern over being arrested or roughed up by police. . . . 
Kirsten Berg, Reporters Committee for Freedom of the Press: Obscure D.C. regulations could target photographers  
Matthew Cardinale, Inter-Press Service: Occupy Movement Divides Civil Rights Activists  
Paul Delaney, theRoot.com: What Happens When 'the Man' Is Us?  
John Hanrahan, Nieman Watchdog: Which comes first: the Constitution or cities' no-camping rules?  
Nick Jimenez, Corpus Christi (Texas) Caller-Times: With liberty, justice and capitalism for all  
Chip Johnson, San Francisco Chronicle: Occupy Oakland: Protesters step into power vacuum  
Merrill Knox, TVSpy: Bay Area Stations Play Catch-Up in Covering Occupy Oakland Violence  
Askia Muhammad, Washington Informer: Police, The Occupiers, and Civil Disobedience  
Tony Norman, Pittsburgh Post-Gazette: Occupy movement makes it time to think  
Mary Sanchez, Kansas City Star: Occupy Wall Street needs a real political strategy  
Alysia Santo, Columbia Journalism Review: Oakland Local Covers Occupy Oakland
"CNN Chief Business Correspondent Ali Velshi is adding new roles across CNN Worldwide," CNN announced on Thursday. "Beginning next month, Velshi will provide business reporting and analysis for CNN's domestic channel, launching signature segments that will interpret and explain a top story of the day. In addition, in 2012, he becomes an anchor of CNN International's World Business Today, a daily global business news program. Velshi also continues as host of Your Money on weekends on CNN/U.S."  
Jorge Andrés, sports anchor for WZDC-TV, Telemundo in Washington, becomes an anchor at ESPN, ESPN spokesman Josh Krulewitz confirmed on Friday. "Focus will be on hosting duties on espn/espnews," Krulewitz said by email.
"Industry groups, legislators, and potential fellow regulators were lining up Tuesday to add their congratulations following the White House announcement late Monday that Jessica Rosenworcel and Ajit Pai were being nominated by the president for FCC commission seats," John Eggerton reported Tuesday for Broadcasting & Cable. ". . . Sprint SVP Vonya McCann added a valedictory for outgoing Commissioner Michael Copps, whose seat Rosenworcel, his former top aide, is slated to occupy."
"NBCUniversal plans to enhance local news at its 10 owned television stations, hiring more than 130 people to cover more local news," Tim Molloy reported Monday for theWrap.com. "The company is making a 'major investment' to ensure that its stations have 'the resources necessary to effectively compete in their markets,' it said in a statement."
Writing last week in the Miami Herald, Editorial Page Editor Myriam Marquez weighed in on the misstatements by Sen. Marco Rubio, R-Fla., on whether his parents came to the United States from Cuba before or after Fidel Castro took power. "Among most Cuban Americans . . . the question isn't when you came from the island but where you stand on Cuba today," Marquez wrote. "And among los intransigentes, there's no concern over those Cubans who, like Rubio's mother, returned in 1961 to Cuba for a brief period — there was a lot of back and forth before the Bay of Pigs invasion shut off travel between the two countries. For the most conservative exiles, the issue today is whether you support travel to the island. Clearly, Rubio does not."  
Marielle Bobo became style director of Ebony magazine Wednesday, Marielle BoboJohnson Publishing Co. announced Friday. She has held "a number of high profile positions at various publications including Allure, WWD, [COSMOgirl!], and OK! and has contributed to Harper's Bazaar, Glamour, Vanity Fair, Self, US Weekly and Life & Style. Most recently she was the Senior Fashion Editor at Essence."
"Rosalyn Durant is adding high-school sports to her ESPNU portfolio," Multichannel News reported on Monday. "ESPN said Durant becomes vice president, ESPNU and ESPNHS, in a move to 'integrat[e] the natural synergy between high school and college sports.'"
"ABC's new daytime show The Revolution has named two more co-hosts, adding health expert and OB-GYN Jennifer Ashton and psychotherapist and relationship expert Tiffanie Davis Henry," Andrea Morabito wrote Monday for Broadcasting & Cable. ". . . Michelle Singletary, personal finance columnist for the Washington Post will also contribute weekly financial segments to the show."
"TV One is accusing BET Network and MTV of hijacking its exclusive rights to the Essence Music Festival, featuring performances by Janet Jackson, Alicia Keys, Mary J. Blige and others. The ambush is alleged to have happened this summer, and now TV One is taking its competitors to federal court for airing an unauthorized "rogue" broadcast of its show," Eriq Gardner reported Tuesday for the Hollywood Reporter.
"After a column by Fox Sports' Jason Whitlock suggested that NBA Players Union President Derek Fisher was working with commissioner David Stern during labor negotiations, behind the back of his NBPA colleagues, Fisher has threatened legal action against Fox Sports if he does not receive a retraction," Gary Washburn reported Wednesday for the Boston Globe.
"The University of Minnesota's Tucker Center for Research on Girls & Women in Sport is hosting the North American Society of Sport Sociology's annual meeting November 3-6," Charles Hallman wrote for the TC Daily Planet in the Twin Cities. ". . . I am on the Tucker Center's mailing list and have regularly reported on their various activities over the years. Although I find the topics, along with the speakers, interesting and certainly noteworthy, a big question mark constantly pops up over my head. Where are the local or national Black experts on women and sports? Where are the Black scholars, practitioners, advocates and leaders of women's sports?"
Follow Richard Prince on Twitter
Facebook users: "Like" "Richard Prince's Journal-isms" on Facebook.
Journal-isms is published on the site of the Maynard Institute for Journalism Education (www.mije.org). Reprinted on The Root by permission.