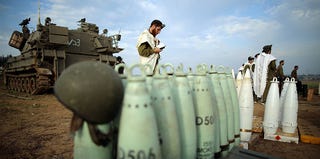 "Fear, Terror, Helplessness" on Journalists' Visit
Hispanic journalists visiting Israel at the invitation of a group that offers media figures all-expenses-paid trips found themselves in Jerusalem this week while Israel and Hamas were exchanging missiles and bombs.
"Fear, terror and helplessness washed over the group," Israel Hayom, an Israeli-based online newsletter, reported on Friday. "But some good came of the incident, at least from the Israeli perspective. The foreign journalists got a taste of the war situation in Israel and felt the rocket threat firsthand. Back at the hotel that evening, they translated their experience into articles, radio broadcasts and blog posts that were seen and heard all over the world."
The story identified only two of the Hispanic journalists, but the host group's Facebook page identified others. Among those on the Facebook page are Manuel Abud, president of the NBC-owned Telemundo Station Group, Katherine Archuleta, national political director of President Obama's reelection campaign, and Adriana Grillet, who is chief marketing officer of FDP Radio Network, according to her LinkedIn profile.
Named in the story are Maria Antonieta Collins and Fernando Espuelas. Collins is described as a Mexican-born journalist who lives in Miami, writes for both the Spanish-language media outlet Univision and the Miami Herald's El Nuevo Herald, and hosts a radio program that is broadcast to 25 large U.S. cities.
Espuelas is "the host of a popular political radio program for Spanish-speakers in the U.S. His program is broadcast to New York, Chicago, Dallas and Miami, among other cities, and on the Internet. During the visit, Espuelas puts up many notes on his Facebook page, which has more than 10,000 followers," Israel Hayom reported.
Espuelas, host and managing editor of "The Fernando Espuelas Show," a radio talk show on the Univision America Network, said on his Facebook page Thursday that he was back in Los Angeles.
The story added that Collins, who was on her first trip to Israel, "says she quickly realized that 'the situation in Israel is absurd and the people here are suffering. After the one-time experience that we had at the Western Wall, I can't imagine how it's possible to live in a city that gets hit by thousands of rockets. I can't imagine what it would be like if it happened on the border between Tijuana and San Diego. Now I admire the people of Israel, who keep on living and coping with this situation.' "
In a column Tuesday in the Spanish-language El Nuevo Herald, Collins said she had been invited on the trip by Irwin Katsof, director of the New York-based America's Voices in Israel. Katsof told Journal-isms in January that his 10-year-old organization exists to sponsor such trips and that it was trying to influence the United States' growing Latino population.
Katsof's group started by inviting radio broadcasters who broadcast live from Israel. It expanded to movie actors, evangelical leaders and journalists. "There are no strings attached, no obligations," he said then. "We just present the facts to them" from a diverse group that includes Arabs and Palestinians. The funding comes from philanthropists, Katsof said.
The group director messaged Saturday that the arrangement this time was the "Exact same. No strings attached. No obligations of any sort at all. No expectations." When asked whether this was an all-expenses-paid trip as well, Katsof replied, "They paid part of their air fare."
Chinese bloggers were also in Israel at the invitation of Israel's Public Diplomacy and Diaspora Affairs Ministry, Israel Hayom reported.
The Society of Professional Journalists and the Washington Post, among other journalism organizations, maintain that journalists who accept free trips place themselves in a conflict of interest. Telemundo spokesman Alfredo Richard told Journal-isms Friday that Abud is not involved in editorial news decisions.
Espuelas was enthusiastically pro-Israel on his Facebook page. "Get the facts, folks. Israel is responding to LITERALLY 1000's of missiles shot at CIVILIANS by Hamas," he wrote this week. "Just an hour ago we had another missile warning siren because Hamas launched a rocket [at] Jerusalem — where about 1/3 of the population is Palestinian. Hamas are terrorists — they don't care if they even kill their own people. And Israel has only targeted MILITARY targets in Gaza, the places from which Hamas has shot at Israel.
"Don't buy into a factually wrong media narrative — get informed." Journalists have been among the civilians wounded or killed by Israeli rockets.
A year ago, the Anti-Defamation League sponsored 17 Latino journalists from the United States and Latin America on a similar eight-day, all-expenses-paid trip to Israel.
Among the participants were Rick Sanchez, former CNN anchor, soon to be with the new MundoFox; Henrik Rehbinder, opinion editor of Los Angeles-based La Opinión, the nation's largest Spanish-language newspaper; Fernando Diaz, managing editor of Hoy Chicago and then vice president/online of the National Association of Hispanic Journalists; and Nuria Net, deputy editor of Univision News, Univision's online English language platform. Others included journalists from Atlanta, Boston, Chicago, Dallas, Houston.
Hispanic journalists on the January trip included Jorge Ferraez, a founder of Latino Leaders Magazine; Mary Rabago, anchor for Univision 33 in Phoenix; Lupita Colmenero, executive vice president at Latina Style, Inc., publisher of El Hispano News Hispano News and founder of Parents Step Ahead, an educational outreach initiative; syndicated columnist Ruben Navarrette Jr.; and Ruben Keoseyan, then executive editor of Los Angeles-based La Opinión, now vice president of content for Telemundo Los Angeles KVEA.
Israel Denied Journalist Status to Hamas Cameramen
"The unprecedented killing of two cameramen for Gaza's Hamas TV station in a missile strike raised questions about whom Israel considers to be militant operatives, and thus legitimate targets," Karin Laub reported Wednesday from Gaza City for the Associated Press.
"Israel said the expanding Hamas media empire is part of the Islamists' 'terrorist operations,' although it stopped short of branding everyone working for it as a potential target in its offensive against Gaza's Hamas rulers.
"Al-Aqsa TV, which employed the two journalists, said they were killed on the job, and it accused Israel of trying to silence those documenting the suffering of Gaza's civilians.
"On Wednesday, the funeral procession for Mohammed al-Koumi and Hussam Salama set off from Gaza City's Shifa Hospital, just a few hundred meters (yards) from where the Israeli missile had struck their car a day before. Several dozen Al-Aqsa TV staffers marched behind the bodies. A wreath sent by Gaza Prime Minister Ismail Haniyeh of Hamas read: 'With blood we write. With blood we film. They will not be able to silence the truth.'
"Al-Aqsa TV is the centerpiece of Hamas' increasingly sophisticated media operation, launched in 2004 with a small radio station. By the start of Israel's Nov. 14 Gaza offensive, Al-Aqsa TV and Radio had about 400 employees, including a network of reporters closely covering the Israeli airstrikes.
"Al-Aqsa reporters do not pretend to be objective and clearly work in the service of Hamas, using its lingo and loaded terms in on-air comments. The station has generally been accurate in reporting casualties in the past week and does air some other views within the Palestinian political spectrum.
" . . . Israeli government spokesman Mark Regev said those working for Hamas media cannot be considered journalists.
". . . Under the rules of war, media can only be targeted if they contribute to combat, such as relaying military orders, according to the international group Human Rights Watch. . . . "
Fernando Espuelas, YouTube: Media Bias Against Israel — in Jerusalem (Video)
Mel Frykberg, Inter Press Service: Bombed, Wounded, and Celebrating
Peter Hart, Fairness & Accuracy In Reporting: What's Missing from CBS's Gaza History?
Peter Hart, Fairness & Accuracy In Reporting: Palestinians and the Proper Way to Grieve Dead Children
Richard Horgan, FishbowlLA: CAMERA Questions LAT Designation of Gaza Clash Victim as 'Palestinian Journalist'
Adam Morrow and Khaled Moussa al-Omrani, Inter Press Service: Gaza Assault Shows a New Egypt
Shihab Rattansi, with Frank Sesno, Phyllis Bennis and Vijay Prashad, "Inside Story Americas," Al Jazeera: Gaza and the US media narrative
Geraldo Rivera, Fox News Latino: Israel-Gaza, the Unholy War
Natan B. Sachs, Washington Post: What Bill Clinton can teach Obama about Israelis
Indignation Drives Press-Freedom Honorees
"The battle for a free press sometimes feels like a war between indignation and intimidation. Journalists learn of abuses of power, crime, or corruption, and — indignant — they speak out.
"In response, the perpetrators of those abuses — be they government officials or criminals — try to intimidate the journalists into silence with threats, lawsuits, jail, or even murder," Elana Beiser of the Committee to Protect Journalists wrote Wednesday.
"Last night, the Committee to Protect Journalists paid tribute to a handful of journalists for whom indignation is a driving force, no matter the scale of intimidation.
" 'Indignation is what best defines the motivation of those who do this kind of journalism,' Maury König told a crowd of nearly 900 in New York's Waldorf-Astoria grand ballroom as he accepted one of CPJ's International Press Freedom Awards.
"König is an investigative reporter who has exposed human rights abuses and corruption in his native Brazil, including sex trafficking and kidnapping of Brazilian children for military service in Paraguay. While researching the latter in 2000, König was captured by suspected Paraguayan policemen and severely beaten, strangled, and left for dead. He has been threatened with death several times since, but, he said, 'My indignation is greater than my fear.'
"Another of CPJ's award winners, Mae Azango of Liberia, practically exudes indignation. This is directed at former warlords in her once-war-ravaged country; at corrupt and brutal police; and at complacent government officials. But Azango reserves special indignation for the secret societies in Liberia who practice female genital cutting. Reporting on this practice — a taboo subject in Liberia — led to death threats against Azango this spring and forced her to take her nine-year-old daughter into hiding. . . ."
Two other fearless journalists from China and Kyrgyzstan were honored at the benefit dinner, hosted by PBS senior correspondent Gwen Ifill.
Roy Greenslade blog, the Guardian, Britain: Why the Day of Impunity is so vital to journalists across the globe
Scott Griffen, International Press Institute: Journalist murdered in Brazil
International Press Institute: 2012 deadliest year on record for journalists, says global network
United Nations: In one of deadliest years for journalists, UN stresses need to defend press freedom
Rihanna Apologizes to Press for "Plane-a-Geddon"
"Guess Rihanna is sort of 'apologetic' after all," Ian Drew, senior editor for Us Weekly, reported on Tuesday.
Drew, a note explained, "has been among the 250 journalists, fans and entourage members flying with Rihanna via Delta 777 jet for her 777 tour — as she plays seven concerts in seven cities in seven different countries in seven days to promote her seventh album, Unapologetic."
Drew continued, "Days five and six of the wild tour (in Berlin and London, respectively) dissolved into a 'hopeless' situation, I blogged on Monday Nov. 19. Most passengers were deliriously deprived of sleep, food and sunlight; members of the press were upset that Rihanna had been completely unavailable for quotes, photos or much of anything offstage following day one of the tour. One particularly despondent Australian shock-jock even streaked naked through the plane in protest; in London, one journalist handed out fake 'Missing: Rihanna' flyers.
"On the final day, Rihanna (who reportedly heard about the 'Missing' flyers) acknowledged what I call 'Plane-a-Geddon' as the 777 prepared to land in NYC for one more concert.
"Coming to the back of the plane to address the group, the 'Diamonds' singer sheepishly addressed her in-flight press [corps] — plopping down in an aisle seat right across from me.
" 'Guess what, we made it! This has been an experience [that] I will never ever forget. I barely slept. My sleeping was all done on this plane,' explained the superstar, who kicked off the tour, heading toward Mexico City, in high spirits, pouring champagne for everyone. 'I want to thank everyone for making this trip the sh—. I want to see the naked Australian! ' . . . "
How MSNBC's Style Differs From That of Fox News
"MSNBC President Phil Griffin labels his network's sensibility as progressive, but the cable news channel could also be described these days as simply pro-Obama," Michael Calderone wrote Wednesday for the Huffington Post.
"In the final week of the 2012 election, MSNBC ran no negative stories about President Barack Obama and no positive stories about Republican nominee Mitt Romney, according to a study released Monday by the Pew Research Center's Project for Excellence in Journalism.
". . . Griffin acknowledges that his hosts are more likely to agree with Obama on policy matters than with Republicans, but rejects comparisons to Fox News.
" 'This channel has never been the voice of Obama. Ever,' Griffin told The Huffington Post. 'People want to talk about Fox. Fox is the voice of the Republican Party.' "
"Clearly, there are differences, such as Fox News giving significant airtime to contributors like political consultant Dick Morris, who acknowledged after the election that he had tailored his analysis to cheer up Republicans, and Karl Rove, perhaps the most powerful Republican operative. And although MSNBC hosts were upset by Obama's initial debate debacle, they didn't sugarcoat the performance.
Calderone quoted several progressives who said that MSNBC hosts are too easy on Obama.
But Calderone continued, " 'We hire smart people with a progressive sensibility,' Griffin said. 'I tell them to go think for themselves. We don't have talking points.' . . . "
Sports Columnist Burwell Moves to Multimedia Role
". . . Bryan Burwell, who has been the No. 2 columnist since arriving a decade ago, is moving to a newly-created multimedia role that will include many video appearances on the website, Dan Caesar reported Friday for the St. Louis Post-Dispatch.
"Joe Strauss, who has been the lead Cardinals reporter since coming to the paper in 2002, moves to Burwell's No. 2 columnist slot, behind Bernie Miklasz. Derrick Goold switches from No. 2 on the Cards beat to Strauss' lead slot. And Rick Hummel, a Hall of Fame baseball writer, will increase his Cardinals coverage in addition to continuing to report on the sport from a national perspective."
Caesar quoted Sports Editor Roger Hensley: ". . . 'Essentially I was asking myself three questions: One, in an age of digital journalism, how could I put Bryan Burwell into a position where we could utilize not only his years of writing and reporting experience, but also the vast background he has in television?"
". . . A studio has been constructed in the Post-Dispatch building to provide his base," Caesar continued.
" 'Bryan will have his own video production, titled "Upon Further Review," that we'll produce and air three times a week,' Hensley said. 'Sometimes it might just be Bryan on camera giving commentary. I would expect he'll also have guests in studio from time to time. In addition, we plan for Bryan to go out and film segments on site, interview athletes, coaches, etc.'
"Burwell won't disappear from print — he'll write one column a week for the paper and another for online publication only, and he's eager to start his new endeavor. . . ."
Chicago Dailies Glad for Vote to Fill Jackson Seat
The Chicago dailies agreed on one thing after this week's resignation of Rep. Jesse Jackson Jr., D-Ill.: It's good that voters will have a wide-open primary to fill the seat, rather than be handed the choice of politicians who met in a back room.
". . . May the best candidate win — not the one pre-ordained by Democratic power brokers," editorialized the Chicago Sun-Times.
". . . Come one, come all," said the Chicago Tribune. "The incumbent's fall doesn't change the fact that there is a big job to fill."
As the Sun-Times' Natasha Korecki reported on Wednesday, "In a two-page letter dated Nov. 21 and tendered to U.S. Speaker of the House John Boehner, Jackson acknowledged he is cooperating with a federal investigation into his 'activities' and cited a continued battle with his mental health."
The Sun-Times editorial said, ". . . We have been among the congressman's admirers. We liked how [he] went to bat for a third airport, his tenacious advocacy for people in the Southland, how he carved out a space for himself separate from his famous father.
". . . Indeed, Jackson accomplished much to be proud of. With the passage of time, he will undoubtedly and justly be remembered for it."
The Tribune was less effusive. " 'None of us is immune from our share of shortcomings or human frailties and I pray that I will be remembered for what I did right,' Jackson wrote" in his letter to House Speaker John Boehner, the Tribune reminded readers.
"The letter listed several projects, finished and otherwise, that 'have made the 2nd District of Illinois a better place.' He is due credit for all of that.
"The rest of what he'll be remembered for remains, for now, a mystery."
Mark Brown, Chicago Sun-Times: Large field to possibly seek Jackson's seat
Mary Mitchell, Chicago Sun-Times: Sobbing Rev. Jackson on son's resignation: Jesse Jr. 'is not well'
Lynn Sweet, Chicago Sun-Times: Jesse Jackson Jr.'s agony: He couldn't escape father's shadow
A Native American's Take on Thanksgiving
Do American Indians celebrate Thanksgiving?
Here's one answer from Dennis W. Zotigh (Kiowa/San Juan Pueblo/Santee Dakota), a writer and cultural specialist at the Smithsonian National Museum of the American Indian in Washington, D.C. He believes the celebration perpetuates harmful images:
". . . No, I don't celebrate. But I do take advantage of the holiday and get together with family and friends to share a large meal without once thinking of the Thanksgiving in 1621. I think it is the same in many Native households. It is ironic that Thanksgiving takes place during American Indian and Alaskan Native Heritage Month. An even greater irony is that more Americans today identify the day after Thanksgiving as Black Friday than as National American Indian Heritage Day."
Rhonda LeValdo, president of the Native American Journalists Association, posted this message on Facebook:
"Blessings to all of you however you spend this day! Remember our ancestors who fought so bravely, many who lost their lives, those who survived and all of us who are still here in remembrance of those original inhabitants, thank you Creator for another day we can make a difference, thank you to all of you who make a difference for Indian Country!"
Esther J. Cepeda, Washington Post News Media Services: The grinches who stole Black Friday
Simon Moya-Smith, Indian Country Today Media Network: United American Indians of New England Commemorate a National Day of Mourning on Thanksgiving
Stephanie Siek, CNN: Thanksgiving is some Native Americans' 'Day of Mourning'
". . . Beginning at midnight on Dec. 1 through 11:59 p.m. on Dec. 15, students at a high school, community college or university ages 14 and up can tweet their support for the First Amendment with the hash tag #FreeToTweet, which will enter them in the "Free to Tweet" scholarship competition," the American Society of News Editors announced on Monday. High school and college students nationwide can win one of five $5,000 scholarships.
"Lester Holt joined his son, NBC Chicago anchor Stefan Holt, at the anchor desk for the station's noon newscast today," Merrill Knox wrote Friday for TVSpy, accompanying the item with a video. " 'I invited myself to co-anchor the noon news on channel 5,' Lester admitted. 'And he invited himself to Thanksgiving dinner as well,' Stefan added."
"Bad news for Washington political watchers: KING 5 has canceled its long-running Sunday political program, 'Up Front with Robert Mak,' " Jim Brunner reported Wednesday for the Seattle Times. " . . . Mak has been offered 'a role to continue on as our chief political reporter,' KING Executive News Director Mark Ginther was quoted as saying. Times editorial writer Thanh Tan Wednesday called the decision "a punch in the gut." She noted that Mak is ". . . also a long-time Asian American Journalists Association member who has inspired minority journalists (including myself) to pursue serious, public interest news."
The Publishers Association of Liberia "threatened that it would place [a] media blackout on individuals and groups that make reckless and unsubstantiated statements intended to cause panic, public unrest and disharmony," The News in Monrovia, Liberia, reported on Thursday.
"Dylan Stableford at Yahoo! News caught up with Gustavo Almodovar, a former Central Florida news reporter whose 2008 farewell compilation video was rediscovered last week by Reddit users and launched anew," Richard Horgan reported on Tuesday for FishbowlLA. "The 46-year-old Almodovar now works in the field of medical marketing and tells Stableford he's not sure the above video is worthy of the viral madness," he wrote as he provided a link to the video.
In Djibouti, on the Horn of Africa, Reporters Without Borders said Tuesday it was "relieved to learn that the journalist Houssein Ahmed Farah was finally released on 18 November after being held without trial for more than three months."
Follow Richard Prince on Twitter.
Facebook users: "Like" "Richard Prince's Journal-isms" on Facebook.
Journal-isms is published on the site of the Maynard Institute for Journalism Education (www.mije.org). Reprinted on The Root by permission.