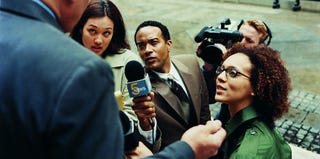 Juan Gonzalez, an Originator of Coalition Idea, Agrees
The National Association of Black Journalists should not go back to the Unity coalition "at this time," a commission appointed by NABJ President Gregory H. Lee Jr. recommended Tuesday, and Juan Gonzalez of the National Association of Hispanic Journalists, a Unity founder, told Journal-isms that the commission made the right decision.
"There comes a time when you must admit, even those of us who labored for years to create and preserve this unique alliance of journalists of color, that things have radically changed, that UNITY has lost its way, Gonzalez said in a statement.
Keith Reed, the NABJ treasurer who led the commission, voiced the same sentiment in an interview at the NABJ convention, which opened officially Wednesday in New Orleans.
After NABJ left the Unity coalition last year over financial and governance issues, leaving behind the national associations of Hispanic, Asian American and Native American journalists, the remaining Unity partners invited the National Lesbian & Gay Journalists Association to join and changed the name from "Unity: Journalists of Color, Inc." to "Unity Journalists."
Admission of NLGJA "was not the basis of our decision," Reed said. "Unity had already begun to move away from its roots."
The coalition began as a vehicle for "co-located conventions" of the partner associations, Reed said. "What it was doing was raising a lot of money," moving toward merging organizations and "in many instances competing with one another for revenue."
Unity was never intended to be an organization with an executive director and a full-time staff, he said.
Reed said the commission's recommendation did not require NABJ board action and applied only to what the thinking is "right now." Other members of the commission — Rochelle Riley, Zuri Berry, Herbert Sample, Joe Davidson and Sidmel Estes — had their own reasons for their decisions, he said.
In October, Unity President Joanna Hernandez named John Yearwood, who was one of the final NABJ representatives to Unity and opposed the NABJ pullout, as chair of a 10-member Unity President's Reunification Commission, a counterpart to the NABJ panel appointed by Lee.
Yearwood, who is at the NABJ convention, said his commission could not advise the Unity president until it had a proposal from NABJ, which, as of now, will not be forthcoming.
Gonzalez on Unity: "Sometimes It Is Best to Part"
Juan Gonzalez, who is credited with originating the Unity concept and was silent when the coalition accepted the National Lesbian & Gay Journalists Association, said Tuesday that the National Association of Black Journalists was right to leave the coalition.
By accepting NLGJA and dropping "Journalists of Color" from its name, Unity "revealed . . . little understanding of the sacrifices and struggles made by so many journalists of color who preceded us."
Gonzalez, a former president of NAHJ, took a position contrary to that of the current NAHJ leadership. On the Unity board, NAHJ President Michele Salcedo seconded the motion to drop "Journalists of Color" from the Unity name. The motion passed 11-4 with one abstention.
Here is Gonzalez's statement:
When NABJ's board of directors voted to leave UNITY a year ago, I argued publicly against the split.
"Leadership on both sides, I said then, should have been more responsive to legitimate governance and financial issues raised by NABJ. Like my longtime friends and colleagues, Will Sutton and Joe Davidson, and like hundreds of other journalists of color within the alliance, I was deeply troubled that the current leaderships of the various organizations failed to find a way to resolve their differences.
But before the schism could be properly assessed and perhaps rectified, the UNITY board turned its attention instead to incorporating another group, the National Lesbian & Gay Journalists Association, into the alliance. By doing so in such rapid fashion, UNITY leaders effectively discarded the core mission that made the group such a powerful voice in American journalism since its founding conference in Atlanta in 1994. They revealed, moreover, little understanding of the sacrifices and struggles made by so many journalists of color who preceded us.
Our four organizations were all the product of two centuries of unfinished business within our nation and our media system — the fight against all vestiges of racial and ethnic segregation and discrimination.
Saying this in no way belittles or marginalizes similar efforts to oppose other types of discrimination, whether based on gender, sexual orientation, age, or physical disabilities.
But racial and ethnic bias has proven to be the most persistent, most divisive, most intractable of social inequities. The great moral authority of UNITY was its role as the key organization advocating better coverage of race and equal opportunity for journalists of color. Its power came from being organized and led solely by journalists of color. So when UNITY rushed to incorporate NLGJA before properly addressing the departure of NABJ — the largest and most influential group within the alliance — it sent a clear signal, whether intended or not, that racial and ethnic equality was no longer its main mission.
The leaders of UNITY, many of them my friends, will no doubt argue differently. But the same logic that says NLGJA belongs in UNITY holds true as well for Women in Communications, for the Association of Women Journalists, for the [South] Asian Journalists Association, etc.
Back in 1827, in the inaugural issue of America's first black newspaper, Freedom's Journal, editors Samuel Cornish and John Russwurm declared: "We wish to plead our own cause. Too long have others spoken for us." So, too, did UNITY "plead the cause" of journalists and communities of color in noble fashion from 1994 to 2011. Then, a grand alliance lost its way in a well-intended but nonetheless misguided search for numbers over purpose.
So I extend my best wishes to the members of NABJ for a successful convention this week. Events of the past year have unfortunately proven you made the right decision. The pursuit of racial and ethnic equality in the media continues. All of our organizations, both those that currently exist and those yet to be created, are only vehicles toward that end. And when one of those organizations takes a different road, sometimes it is best to part.
Unity Co-Founder Says Change of Name Is "Dead Wrong" (April 23)
Hotel Computer Glitch Makes for Long Check-In Wait
A computer glitch left some registrants to the National Association of Black Journalists convention angry Wednesday as the host New Orleans hotel was unable to process them, leaving them waiting for hours in the lobby.
The snafu was resolved about 3 p.m. CDT, according to NABJ Executive Director Maurice Foster, only after some members, such as former NABJ President Sidmel Estes, had waited since 10:30 a.m. The computer went down Tuesday night, members said.
NABJ President Gregory H. Lee Jr. told Journal-isms, "NABJ will fight to ensure that our members will reap something for our inconvenience. This is unacceptable. . . Our members are waiting and frustrated."
An aide to Fred Sawyer, general manager of the Hilton New Orleans Riverside, said Sawyer was working at the front desk himself and would not be available for comment for two or three hours. However, the hotel circulated a letter of apology "for the issues experienced by guests of the National Association of Black Journalists and indeed all guests trying to check in early to our hotel today. . . " though it offered no restitution. 
More than 2,250 people had registered for the convention by Wednesday, Foster said. Vice President Joseph Biden was scheduled to address the association Wednesday night, leaving attendees little time to get to their rooms and clear the security requirements. The NABJ block of 800 rooms was sold out, representing 3,500 room-nights, he said.
"This is disrespectful," said Allen Johnson, editorial page editor of the News & Record in Greensboro, N.C.. "It was only dollars for me, but I demanded some pro-rate on my rate. You don't create a situation like this for a major convention.
"A good business person would say, 'we need to do something for these people. ' "
Estes called it "the New Orleans curse. The last time NABJ was here," in 1983, "we had a fire in the hall. I have never, ever had a situation like this." She said she had been waiting to be checked in since 10:30 a.m.
Foster, who with Lee was working to resolve the issue, saw a bright side to the inconvenience. "Look at the attitude of the people," he said. "It's become a greeting (space). The people who just arrived are happy because they're here. It's made for some interesting tweets."
Biden Outlines Campaign Focus on Middle Class
Vice President Joseph R. Biden Jr. laid out the Obama administration's case for re-election Wednesday before the National Association of Black Journalists, saying of Mitt Romney and the Republican congressional leadership, "I don't think they understand what's happening to ordinary people."
Noting that he was in New Orleans, home of James Carville, the "ragin' Cajun" Democratic strategist who famously said during Bill Clinton's 1992 presidential campaign, "It's the economy, stupid," Biden said, "This is about more than the economy, it's about who we are."
He defined "middle class" as "a way of life. It's a point of view, it's a value system." Biden quoted his father as telling him, "Joey, a job is about more than a paycheck. It's about your dignity, your self-respect, your sense of self, your sense of community."
He contrasted those views with those of Republicans, whom he said had presented a "straight up, they're saying what they mean" approach this year. "No more compassionate conservatives."
Biden left without taking questions, a condition imposed by the White House, according to NABJ Executive Director Maurice Foster. Some journalists said NABJ should not have capitulated. "It was stupid," Kevin Merida, national editor at the Washington Post, told Journal-isms. "We're journalists."
Seated in the audience with his son and former wife, Tracy Martin, father of slain Florida teenager Trayvon Martin and a Democrat, told Journal-isms he approved of Biden's speech, singling out "the part about 'Romney is not from his neighborhood and he doesn't understand our neighborhood' " and agreeing that "Who doesn't want their kids going to college?" The Martins are scheduled for an NABJ panel Thursday.
Gene Demby of the Huffington Post filed this account of Biden's speech.
Romney declined an NABJ invitation, but his campaign announced that the candidate would address the NAACP convention in Houston, which runs July 7-12.
HuffPost BlackVoices NABJ page
NABJ Monitor student convention coverage
Unity Offers Discount to Those Recently Laid Off
"To offer further assistance to journalists who have been laid off, UNITY Journalists is offering a special discounted rate to people whose jobs have been lost during newsroom reorganizations since Jan. 1, 2012," the Unity alliance announced.
"The special registration rate for Recently Unemployed Journalists is $325, pending confirmation of the registrant's unemployment status. If you are interested in registering for UNITY at this price, you have until Friday, June 29, to submit your registration form."
The Unity pre-registration rate through June 29 is $400 for members of the Asian, Hispanic, Native American or lesbian and gay journalists associations, and $600 for non-members.
The Unity convention is scheduled for Aug. 1-4 in Las Vegas.
Asians Pass Latinos as Largest Group of New Immigrants
"Asian Americans are the highest-income, best-educated and fastest-growing racial group in the United States," the Pew Research Center reported on Tuesday.
"They are more satisfied than the general public with their lives, finances and the direction of the country, and they place more value than other Americans do on marriage, parenthood, hard work and career success, according to a comprehensive new nationwide survey by the Pew Research Center.
" . . . Asians recently passed Hispanics as the largest group of new immigrants to the United States. The educational credentials of these recent arrivals are striking. More than six-in-ten (61%) adults ages 25 to 64 who have come from Asia in recent years have at least a bachelor's degree. This is double the share among recent non-Asian arrivals, and almost surely makes the recent Asian arrivals the most highly educated cohort of immigrants in U.S. history."
In a statement from the Asian American Journalists Association Wednesday, AAJA National President Doris Truong said, "Pew's research reinforces the importance of Asian Americans and Pacific Islanders as a segment our society that newsrooms need to pay attention to. It was disappointing to see a lack of diverse perspectives — especially from major news networks — in covering this story. AAJA is well positioned to help hiring managers find talented journalists who can connect with increasingly diverse communities."
Other Asian American opinions (foundasian.org)
Pew Research Center: Live Video: The Rise of Asian Americans
Firefighters Protest "Racist" Cartoon on Newspaper Layoffs
Harold Schaitberger, general president of the International Association of Fire Fighters,  branded as "racist" a cartoon in the Pensacola (Fla.) News Journal on the massive layoffs last week at newspapers owned in Alabama by Advance Publications.
Cartoonist Andy Marlette referenced the civil rights movement in Birmingham, Ala., in 1963, when young black protesters were blasted with fire hoses at the order of Eugene "Bull" Connor, commissioner of public safety.
In the cartoon, one white firefighter says to another, "Don't worry, since they laid off all the journalists in Alabama we can get away with this kind of stuff again."
Nate Monroe, Pensacola (Fla.) News Journal: News Journal cartoon draws ire
Follow Richard Prince on Twitter.
Facebook users: "Like" "Richard Prince's Journal-isms" on Facebook.
Journal-isms is published on the site of the Maynard Institute for Journalism Education (www.mije.org). Reprinted on The Root by permission.