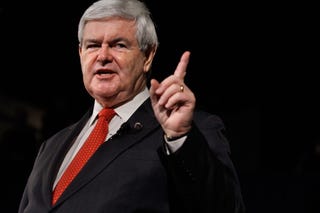 "I was one of twenty or so reporters in the room, but according to Dylan Byers I was first to tweet it," Dave Weigel of Slate.com wrote from New Hampshire on Friday.
He was referring to this town hall comment Thursday from Newt Gingrich:
"So I'm prepared, if the NAACP invites me, I'll go to their convention and talk about why the African-American community should demand paychecks and not be satisfied with food stamps."
Weigel told Journal-isms he didn't write a piece based on the comment. But he was the only journalist in the room to report it, however briefly. And once he did, it went viral.
As Byers wrote in Politico on Friday:
"Newt Gingrich's comments about African-Americans and food stamps, made at a town hall meeting in New Hampshire yesterday, have made the expected media rounds — from Slate to The Daily Beast to The Associated Press to MSNBC — but the interpretation has changed somewhat along the way.
"A reporter on the trail notes that Gingrich frequently says in his stump speeches that he would urge people to demand paychecks instead of food stamps — a talking point that it is not usually met with great alarm by the media. He also frequently says that he would go to the NAACP convention if it invited him. On Thursday morning, the two points came together when he said he would go to the NAACP convention and explain 'why the African-American community should demand paychecks and not be satisfied with food stamps.'
"Slate's Dave Weigel tweeted a slightly altered version of Gingrich's quote at 9:34 a.m., and Talking Points Memo put it up less than 20 minutes later with the headline, 'Newt: African Americans Should Get Off Food Stamps; Demand Paychecks.' An hour after that, The Daily Beast ran its story with the headline, 'Gingrich to African-Americans: Get Off of Food Stamps.' By the end of the day, the AP was comparing the quote to a remark made by Rick Santorum that the president of the National Urban League criticized as pandering to racist elements in the GOP."
In a posting on Friday, Weigel explained why he found the Gingrich quote newsworthy.
". . . Back in 2010, at Republican rallies and in columns, Gingrich was calling the Democrats the 'food stamp party.' Gingrich has been using this frame for a while, and he's used it despite the predictable moans from liberals that by discussing food stamps he MUST be dog-whistling to voters who think minorities are getting handouts.
"But in 2010 and 2011, Gingrich didn't say he was going to bring this message to black people, specifically. This was why his remarks on Thursday piqued my interest. A quick Nexis search — admittedly, Nexis hasn't been printing every transcript of every Newt speech — finds no examples of Gingrich saying he'll explain paychecks/food stamps at the NAACP's convention, and no example of Gingrich connecting food stamps/paychecks to black people specifically. ['Hmm,'] I thought. 'This is new.' "
Three other reporters whom Weigel said were in the room — from Yahoo News, Talking Points Memo and USA Today — did not respond to emails asking why they did not note the comment as Weigel did.
On Friday, Gingrich angrily denounced the media coverage of his comments.
"In an interview with CBS' Early Show, Gingrich said his words were distorted. And in fact, his actual quote was not that blacks should not demand food stamps, but that they should 'not be satisfied with them,' " Joy-Ann Reid wrote Friday for the Grio.
In any case, NAACP President Benjamin Todd Jealous, in a statement, noted that Gingrich had previously turned down the invitation the former House speaker said he now welcomes. Jealous also apparently quoted Gingrich incorrectly.
Jealous' statement said, ". . . According to Talking Points Memo and other sources, Gingrich was quoted as saying, 'I will go to the NAACP convention, and explain to the African-American community why they should demand paychecks instead of food stamps.'
" 'We invited Speaker Gingrich to attend our annual convention several times when he was Speaker of the House, but he declined to join us,' Jealous continued. 'If he is invited again, I hope that he would come, with the intention to unite rather than divide.' "
Weigel was hired in 2010 by Slate, which is owned by the Washington Post Co., after the Post fired him when "leaked online messages showed him disparaging some Republicans and commentators in highly personal terms," the Post's Howard Kurtz wrote at the time. Weigel, whose Post tenure lasted three months, had been hired to blog about conservatives. 
Wayne Bennett, the Field Negro: He is just trying to make the "bluh" people's lives a little better.  
Wayne Dawkins, politicsincolor.com: Gingrich latest GOP hopeful to contract black tongue disease
Fox News Latino: Where Jon Huntsman Stands on Issues Important to Latino Voters  
Suzanne Gamboa, Associated Press: Newt Gingrich Says He Would Urge Blacks To Demand Paychecks, Not Food Stamps In Front Of NAACP  
Gregory Kane, BlackAmericaWeb.com: Santorum the Latest Clown in GOP Circus  
Geraldo Rivera, Fox News Latino: Presidential Arithmetic and the Latino Vote 
Lauren Schutte, Hollywood Reporter: Larry King, Horatio Sanz, Mike Tyson Spoof the GOP Candidates in Mock Presidential Debate for Funny or Die
The National Association of Black Journalists Friday issued its 2011 Thumbs Down Award collectively to Bloomberg News, CNN, CNBC, Fox Business Channel, Fox News and MSNBC. The dubious distinction is given annually for reporting, commentary or other content found to be racially insensitive, or for practices at odds with NABJ's mission.
"The 2011 Thumbs Down Award was given to these cable networks for their failure to assign African-American journalists to on-air roles during primetime broadcasts," a news release said.
"On multiple occasions, NABJ has advised the cable news networks to improve their lack of diversity in primetime programming. And the Lawyers' Committee for Civil Rights Under Law has joined NABJ in calling for the networks to end the shutout of black journalists from primetime.
"Despite multiple changes that several of the networks have made to their on-air lineups, they each failed to use the opportunities to hire or promote African-American journalists as primetime anchors or hosts. The latest example occurred at CNN, which replaced 'In the Arena,' hosted by former New York Governor Eliot Spitzer, with 'Erin Burnett OutFront,' hosted by former CNBC anchor Erin Burnett.
" 'We have honored both CNN and NBC for their diversity efforts in the past,' NABJ Vice President-Broadcast Bob Butler said. 'However, it is 2011 and the fact remains, when you turn on any of these channels during prime time, you will not find an African-American host or anchor.'
"Recipients of the 2011 Thumbs Down Award were chosen by a vote by the previous NABJ Board of Directors. The decision to uphold that vote was made by the current Board after considerable deliberation, in part to call attention to the fact that this problem persists at all news networks. Indeed, it could be argued that every television news operation earned the Thumbs Down Award for 2011.
"It is important to note that NABJ draws a distinction between personalities working as anchors or hosts and journalists, nearly all whom have disappeared from primetime anchor chairs. In addition, NABJ believes all television news organizations have the responsibility to ensure that their on-air talent reflects the diversity found in their audiences.
"Earlier this year, NABJ Board members offered CNN Worldwide President Jim Walton solutions for increasing diversity, and we were pleased at his receptiveness. NABJ Board members also have had talks with NBC, and the network has made notable progress in further diversifying its non-primetime on-air and management staff."
"NABJ also announced today improvements to the evaluation of submissions for the Thumbs Down Award. The process has been shifted to the revamped Media Monitoring Task Force, chaired by nationally renowned media critic Eric Deggans of the Tampa Bay Times."
The NABJ decision to award the Thumbs Down comes after President Gregory H. Lee Jr.'s declaration last month that the award was being retired because it had become susceptible to inconsistencies and conflicts of interest. Lee told Journal-isms by email Friday that he still planned to recommend to the board "changing the current model of thumbs down."
As the news release indicated, the new board of directors elected with Lee last summer reaffirmed the decision made by the previous board.
Asked to comment, Jeremy M. Gaines, vice president for communications at MSNBC, said he stood by his statement of last month: "We couldn't disagree more strongly with their decision. We're very proud of MSNBC's record of diversity both on and off air. It's no accident that MSNBC is the number one cable news channel among African American viewers."
On Friday, he said he would add, "Including MSNBC in such a list the day after we announced the addition of Melissa Harris-Perry, suggests the facts are being ignored."
However, Harris-Perry is an author and professor of political science who is scheduled for weekend mornings. The NABJ statement said, "It is important to note that NABJ draws a distinction between personalities working as anchors or hosts and journalists" and that the award concerned itself with primetime broadcasts.
A Fox News Channel spokeswoman did not respond to a request for comment. A year ago, when Bloomberg declined to release figures on the diversity of its workforce, a spokeswoman said, "While it is our policy not to disclose private information about employees or our workforce, Bloomberg LP is an equal opportunity/affirmative action employer and we have dedicated diversity efforts across the company."
A CNN spokeswoman said the network was preparing a response. In July, Kathy Y. Times, then-NABJ president, reported on a meeting with Walton. "NABJ Vice President of Broadcast Bob Butler and I talked with President Walton late Thursday, and he told us the network continues to seek and develop a candidate who has the image and substance to carry a prime-time show," she wrote.
Walton deployed Mark Whitaker, the former Newsweek editor who had recently became a CNN news executive, to talk with NABJ about finding suitable anchor candidates.
[A CNN spokeswoman issued a statement Saturday that, as with MSNBC, avoided the issue of prime-time progamming: "It is surprising that the NABJ has neglected CNN's most recent programming change. Soledad O'Brien, who was recently honored by NABJ as their organization's 'Journalist of the Year,' is now the sole anchor of CNN's new morning show from 7-9am ET," it said.
["It is also worth noting that in recognition of CNN's well-known commitment to diversity, NABJ has chosen to honor CNN for its diversity efforts and programming on several occasions and CNN regularly brings its highest-level executives, hiring managers, and talent recruiters to NABJ's annual convention to recruit from its membership ranks and to speak at conferences and events. For example, later this month, CNN's weekday anchor Suzanne Malveaux is emceeing of NABJ's Hall of Fame ceremony."] 
Gregory H. Lee Jr., NABJ: Industry Wide and Industry Wise: Diverse Newsrooms Matter
Robert Traynham, Washington bureau chief for the Comcast Network, has accepted a position as an MSNBC contributor, Traynham and MSNBC announced on Thursday.
In an email, an MSNBC spokeswoman defined "contributor" as "a frequent guest (often multiple times a day) who is exclusive to msnbc."
Robert Traynham Traynham wrote to friends, "I am very excited about the opportunity to be joining a renowned news organization with such an amazing scope of political coverage, especially during this exciting year of politics and campaigns. At the same time, I will be continuing to teach a course in politics at George Washington University, as well as writing my regular column for the Philadelphia Tribune. Coming soon, I expect to announce another exciting role I will be taking on as well."
Referring to Traynham, the Huffington Post reported Friday, "Chris Matthews had a fiery chat with [an] openly gay former aide to Rick Santorum, the Republican presidential candidate who has an infamously frosty relationship with the gay community, on his Thursday show.
"Robert Traynham, who worked for Santorum while he was a senator, defended his former boss from Matthews' repeated attacks." 
Brian Stelter, New York Times: Fox News Hires Liz Cheney as Analyst and Substitute Host
"Johnson Publishing Co. will move its headquarters a few blocks north to the top floors of the Borg-Warner Borg-Warner Building (Credit: chicagoarchitecture.info)skyscraper at 200 S. Michigan Avenue," Shia Kapos wrote Friday for Crain's Chicago Business.
"The publisher of Ebony and Jet magazines has been looking for new digs since selling its 820 S. Michigan Ave. home to Columbia College in late 2010. It was given an 18-month window to find new offices.
"The publishing company, founded by Chairman Linda Johnson Rice's father and headed by her friend Desiree Rogers, has been working to find ways to reduce costs as circulation and advertising revenue have fallen.
"The current tenant, the Cliff Dwellers club, was pushed out of the building after a lengthy lease negotiation, according to a story first reported in the Chicago Sun-Times.
". . . The new offices, with about 5,500 feet per floor, will be a tighter squeeze for the publishing company that once utilized 110,000 square feet of the old Johnson building, much of which has gone unoccupied in recent years." 
Patricia Sheridan, Pittsburgh Post-Gazette: Breakfast With … Linda Johnson Rice
More than 700 people remembered Michigan Chronicle Publisher Samuel Logan Jr. Friday, a church spokesman told Journal-isms, as the Detroit journalist was praised as fiercely independent and caring deeply about his community.
"Mourners from every segment of Metro Detroit — from political and community leaders including Gov. Rick Snyder and Mayor Dave Bing to the common man — gathered Friday at Greater Grace Temple for the funeral of Sam Logan, the longtime publisher of the Michigan Chronicle, the state's oldest and most influential African-American weekly newspaper," Oralandar Brand-Williams wrote for the Detroit News.
Chuck Stokes, editorial/public affairs director of WXYZ-TV, told Journal-isms "the Who's Who of Michigan" attended. "It was a fitting and respectful service," he said. Editor Bankole Thompson recalled how Logan told him, "Don't let anybody tell you what you can and cannot write," Stokes said.
Williams' story continued, "Various floral arrangements and a picture of Logan sitting next to his U.S. flag-draped casket greeted people gathered for the service. A black-and-white video of Logan being interviewed played as mourners filled the church before the service that lasted more than three hours. . . .
"Logan, who died Dec. 28 at his home in Detroit, was 78. . . . he was credited with preserving the Chronicle as a media outlet and institution in the local black community."
The University of Detroit Mercy announced on Wednesday that Logan's family has created a scholarship in his name at the university. Logan graduated from the University's College of Business Administration in 1973.
Logan was publisher of the Chronicle for 40 years and was co-owner of Real Times Media, parent company of the Chronicle and FrontPage, the Chicago Defender, the New Pittsburgh Courier and the Memphis Tri-State Defender newspapers.
Hiram E. Jackson, CEO of Real Times Media, is serving as the Chronicle's interim publisher. 
Anu Prakash, WXYZ-TV: Mourners remember Michigan Chronicle publisher Sam Logan (Video)
"As a rule it takes days for some network suit, producer or, more likely, bit of on-air talent to start throwing their weight around on stage at this semi annual confab of TV critics and networks," Lisa de Moraes wrote Thursday for the Washington Post.
"But this year a record in the decades-old Press Tour was broken when, on the very first day, in the third Q&A session of this tour, a hissy fit happened — and unexpectedly what with it being a panel discussion about PBS election coverage rather than 'Real Housewives of Beverly Hills.'
". . . unnoticed by many, over at one end of the panel, 'PBS NewsHour' anchor Ray Suarez mooned broodingly, looking like Hamlet.
"And, as programming chief John Wilson was calling it a wrap, Suarez gave voice to his unhappiness:
" 'John, do you think there's anybody who might want to ask about what our programs are going to do for the rest of the year? I mean, this was interesting — I loved listening to Jeff Greenfield — but might anybody want to talk about news and public affairs and covering the election, which we all flew 3,000 miles here to do?'
"That's right — Suarez had dissed both the TV critics AND his colleague Greenfield, who looked surprised.
"Then, over at the other end of the panel, 'PBS NewsHour's' Hari Sreenivasan, who'd been sitting like a bump on a log through the whole Q&A, apparently also brooding, began to snark:
" 'We could crowd source it on Twitter if you can't come up with questions,' he sniffed at the crowd.
"TV critics congealed in their chairs. Nothing makes TV critics feel so sheepish as being told their questions have not been up to the level of excellence that they, the talent on stage, have come to expect at junkets."
"Producers of a new play inspired by the Jayson Blair plagiarism scandal at The New York Times have found the actor who will play the disgraced ex-journalist," Mark Kennedy reported from New York for the Associated Press.
"The Atlantic Theater Company said Wednesday that Kobi Libii will play a Blair-like Times reporter in the world premiere of Gabe McKinley's play 'CQ/CX.'
"Libii, a Yale graduate and alumnus of Second City in Chicago, was in 'Perfect Harmony' at the Acorn Theatre and 'The Tempest' at the Porpentine Theater.
". . . Previews begin Jan. 25 and an official opening is set for Feb. 15. The play will run until March 4 at Signature Theatre Company's Peter Norton Space while Atlantic's main stage gets renovated.
". . . McKinley was a former news assistant at the Times who overlapped with Blair. . . ."
"Ron Burkle, the supermarket mogul, and NBA Hall of Famer Magic Johnson have teamed up to buy BlackBook Media and its software arm, Access Network Co.," Keith J. Kelly reported for the New York Post. "It is going to be combined with Vibe Media, which the two teamed up to buy last year."
"Bounce TV, the new broadcast TV network for African Americans, announced eight new subchannel carriage deals over the New Year's weekend," TVNewsCheck reported. "The new additions boost Bounce TV's U.S. coverage to more than 50% of the country and 72% of African-American homes." The new affiliates are WXIX Cincinnati; WAFF Huntsville-Decatur-Florence, Ala.; WTOC Savannah, Ga.; KLTV Tyler-Longview, Texas; WFXG Augusta, Ga.; WLOX Biloxi-Gulfport, Miss.; WDAM Hattiesburg-Laurel, Miss.; and WDFX Dothan, Ala.  
David Muir of ABC tops Andrew Tyndall's annual list of the "Top 20 Most Used Reporters," anchors excluded. Among journalists of color, Jim Avila of ABC placed sixth; Bill Whitaker of CBS is 12th.
"In its 2011 review of the state of press freedom the Inter American Press Association (IAPA) concluded that this was one of the most 'challenging and tragic' years for the countries of the Americas and reaffirmed its commitment to confront the next challenges," the association reported on Dec. 29. ". . . Regarding violence being unleashed against journalists, in general carried out by drug traffickers and in many cases in collusion with corrupt officials this has been one of the decade's worst years."
"Journalists in Mexico and Ecuador had little to celebrate this year as they recognized Journalists' Day this week, according to the newspapers La Vanguardia and Hoy. Mexico, considered one of the world's most dangerous countries to practice journalism, remembered the seven journalists killed in 2011 on Jan. 4. Ecuador remembered a difficult year for freedom of expression on Jan. 5, following President Rafael Correa's aggressive stance against the media," Tania Lara reported Friday for the Knight Center for Journalism in the Americas.
"One of the things that absolutely delighted me over the course of my career was seeing that, again, the addition of women to newsrooms and the addition of black professionals meant that things that had not been considered news, say, in 1950 or 1960, were considered not only important enough to put it in the news pages, but important enough and interesting enough to talk about on the op-ed pages," Cynthia Tucker, columnist and former editorial page editor of the Atlanta Journal-Constitution, said Thursday on NPR's "Talk of the Nation." ". . .I would argue that now most readers don't think that it's odd to see a piece on the op-ed page about a confrontation that a parent might have had with her child's teacher, or how I have — how best to deal with bullying in schools. 30 years ago, you never saw pieces about bullying in schools. And bullying, believe me, is not new…"
"The Committee to Protect Journalists says Mohamed Shaglouf, the driver hired by The New York Times who went missing in Libya last March, is dead. (Update: the CPJ informs PDN that it first reported Shaglouf's death in early November)," David Walker reported Thursday for Photo District News. "Shaglouf was working for four Times journalists, including photographers Lynsey Addario and Tyler Hicks, who were arrested at a checkpoint by fighters loyal to former Libyan leader Moammar Qaddafi. They reported after their release six days later that they had lost sight of Shaglouf at the time of their arrest."
"When Franca Sozzani, editor of Vogue Italia, visited the Huffington Post offices last month she revealed that her proudest professional moment was publishing the 'Black Issue,' which helped promote diversity in the fashion industry," Julee Wilson reported Thursday for the Huffington Post. "Well, she continued that campaign with a trip to the African country of Ghana to mentor a group of designers from the WEB-Young Designers Hub. While in the country, the group hosted a private fashion presentation in Sozzani's honor to [show off] their dazzling designs."
Follow Richard Prince on Twitter.
Facebook users: "Like" "Richard Prince's Journal-isms" on Facebook.
Journal-isms is published on the site of the Maynard Institute for Journalism Education (www.mije.org). Reprinted on The Root by permission.